Warning: Wallace coming for retribution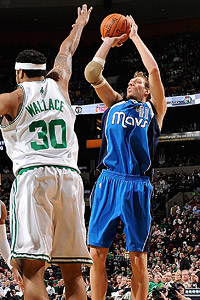 Brian Babineau/NBAE/Getty Images
Round 2: Dirk Nowitzki vs. Rasheed Wallace.That's the headline this morning at our sister site, ESPN Dallas, as Rasheed Wallace and the Boston Celtics prepare to visit the Dallas Mavericks Saturday evening at American Airlines Center. If you remember when the Mavericks visited Boston back in January, Wallace got himself in trouble with the league for criticizing officials after landing in foul trouble while guarding Dirk Nowitzki.
As part of his tirade against the officials -- which ended up costing him $35,000 -- Wallace noted he'd seek "retribution" when the teams met again. It was pretty innocuous, actually, but when Wallace speaks, people tend to listen.
So, two months later, as the teams prepare to joust for the second and final time this season, there's a curiosity in Dallas about what Wallace meant by retribution.
But here's the thing: Wallace's focus needs to simply be on playing well. And, let's be honest, Wallace has been fined enough throughout his career that it's not like the $35,000 from January has lingered with him.
Coming off one of his more solid efforts of the past two months Friday in Houston, Wallace will undoubtedly be a key cog in helping to defend Nowitzki and the surging Mavericks. But Wallace is hardly the impact player he was when the teams first met.
Wallace posted his best month of the season in January, due in large part to the starts he drew in place of injured Kevin Garnett, averaging 13.1 points, 4.6 rebounds and 1.5 assists over 30.6 minutes per game that month. Since then it's been a steady decline, with Wallace averaging 7 points, 4.2 rebounds and 0.5 assists over 20.1 minutes in March.
Wallace has struggled with his shot -- both inside and out -- since then, but in Friday's win over the Rockets, he grabbed nine rebounds in 19 minutes, while scoring seven points. For a day, people won't be screaming for an uptick in minutes for little-used Shelden Williams.
But don't expect any "retribution" tonight. If anything, Wallace simply needs to use this rematch as added incentive to elevate his game further, especially with the playoffs inching near.
Wallace got in trouble when he noted back in January: "[The officials] don't like tough defense on [Nowitzki], so, of course, I get a whole lot of [expletive] calls. That's how the story goes, I'm not worried about it. We'll see them again."
The Mavericks made a late third-quarter run with Wallace on the bench with four fouls. Asked if he thought that was the difference in the game, a 99-90 Dallas victory, Wallace said, "Actually, I honestly can't remember which one the fourth foul was, there was so many bogus [calls], but I'm not worried about it. Like I said, we'll see them again. We go down there in about a month or so. There will be retribution."