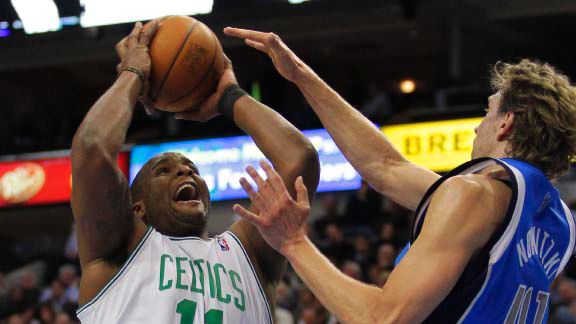 Tim Sharp/AP Photo
On a quiet night for the Boston bench, Glen Davis provided a spark.A collection of postgame news and notes after the Boston Celtics posted a 102-93 triumph over the Dallas Mavericks at the America Airlines Center:
Doc's Opinion: Confident Pierce Celtics coach Doc Rivers has wanted to re-establish Paul Pierce as the team's go-to scoring option late in recent games. With 10 games scoring in double figures out of 12 appearances this month, Pierce seems to be heating up, particularly after topping 26 points or more over the past three games. Even still, Rivers wants to see him more selfish at times.
"[Pierce is] starting to get his confidence," said Rivers. "Right now he's still searching a little bit. You can see it during the middle of games more. I got on him in a time-out because I thought he was looking to pass too much, which I don't think I've ever had to say that to Paul, and told him to just be aggressive. 'Just be who you are,' and he was that. I thought Rondo was sensational as well in the pick-and-roll package down stretch."
About the only thing that went wrong for Pierce Saturday: His top-seeded Kansas Jayhawks were upset by ninth-seeded Northern Iowa, 69-67, in a second-round matchup.
Ray's take: Defensive win: While Boston's offense shined, players and coaches seemed most excited by the play of the defense. "I think, defensively, we made the right plays," said Ray Allen. "We got stops, but they had a couple of looks at the basket where it could have gone either way. Offensively, we did some things where we got the shots we wanted."
Said Rivers: "I was just happy with our defense. We got stops, and then we made baskets down the stretch."
And how exactly did Boston limit Dirk Nowitzki, who scored 28 points on 11-of-19 shooting, but finished with a minus-12 in the plus/minus category?
"You don't [stop Nowitzki], you pray," joked Rivers. "He's tough. He really is. He's so long. There's never been a player like him. There's a new one in Oklahoma that's similar [in Kevin Durant]. But other than that I've never seen anything like that. He's a freak of nature. He's long, he's athletic, he can shoot, he's tough, and I thought he had a heck of a game but we did as well as you could do."
Bench production: For the ninth time this season, Jason Terry single-handedly outscored the entire opposing bench. Terry contributed 18 points on 8-of-16 shooting over 32 minutes, while Boston's bench scored 13 total points, highlighted by seven from Glen Davis.
Loose balls: Dallas guard Jose Juan Barea, a Northeastern product, missed Friday's practice with an illness, but he suited up for Saturday's game, scoring three points in 12 minutes... Kevin Garnett registered a season-high five steals in the win... Saturday's attendance was 20,488. The Mavs have sold out 352 consecutive regular season games at the American Airlines Center and currently own the longest running sellout streak in the NBA. Dallas has sold out all 41 games in each of the past seven seasons.