Go ahead. Enjoy some unbridled optimism about your Boston Celtics. There's no need to preface their recent success with "buts" any more.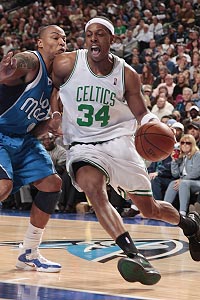 Danny Bollinger/NBAE/Getty Images
Paul Pierce scored a game-high 29 points vs. the Mavs.Boston, winner of four straight, posted its first defining win in more than a month Saturday night in Dallas, taking complete control late in a 102-93 victory over the Mavericks at the America Airlines Center.
Of Boston's last 10 wins, there was hardly a playoff team in the bunch (Portland and Charlotte are clinging to postseason spots in their respective conferences). You'd have to go back to a triumph over the Western Conference-leading Lakers on Feb. 18 to identify the last time anyone could truly be excited about the Celtics without prefacing it with a disclaimer that they still have to show it against quality competition.
Not only did the Celtics top a Mavericks team that had won 14 of its last 15 overall while surging toward the top of the West standings, but they did it on the second night of a back-to-back, mustering the energy and swagger that's been missing for much of this calendar year.
"It's a good win," admitted Celtics coach Doc Rivers. "Number one, [Dallas is] playing so well. They've had [two] days off, had prep time for us, [while] we played last night, and, to come in and come back at the end and take the game away from them was huge for us.
"Our starters were the key today. They played terrific. Our execution down the stretch the last three or four games has been unbelievable. So, yeah, this was a good win for us. Big win? Yeah, I guess. But it's just a good win for us."
Even in defeat last weekend in Cleveland, Rivers stressed that he saw something in this team that made him optimistic about its postseason chances.
But considering Boston is 2-9 against the brass of the Eastern Conference (Orlando, Atlanta and Cleveland), it's been hard to buy what he's selling.
Even after the Celtics dominated three consecutive home games over the past nine days, it seemed everyone was waiting for the usual letdown against a quality opponent on the road.
It hasn't happened. Boston completed a satisfying Texas two-step, downing the Rockets and Mavericks to kick-start a stretch that features eight straight games against Western Conference opponents leading to an Easter showdown against the Cavaliers.
Even though Rivers tossed a "but" into his remarks while talking about Saturday's win, it's clear the Celtics have a right to savor the recent triumphs.
"I told our guys, it's a great win, a terrific win, but we're still not where we want to be," said Rivers. "We have to keep marching toward that. Whether we win games or not, our goal hasn't changed. We want to be ready in April. These games are important to getting there."
The Celtics weren't looking for payback against a Mavericks team that defeated them at TD Garden in January. They were just looking for a quality win.
"No, it wasn't payback," said Celtics guard Rajon Rondo. "That game is over with and it's a new time for us. We just needed a win. It wasn't payback, we just needed to take care of business."
Rivers will enjoy watching the film from Saturday's win as he'll see glimpses of what made this team NBA champs in 2007-08.
Boston's entire starting five looked rejuvenated. And while Kevin Garnett struggled with his shot, connecting on just 3-of-9 attempts for eight points, he added nine rebounds, five steals and an assist. Boston's starters scored 89 of the team's 102 points.
Most impressive was the continued reemergence of captain Paul Pierce, who poured in a game-high 29 points on 10-of-17 shooting over 36 minutes.
Pierce, who hasn't met with the media since a win over the Pacers on March 12, did engage in an on-court interview with Comcast SportsNet -- the TV home of the Celtics -- following Saturday's win.
"We're trying to gather some momentum for the playoffs," said Pierce. "We're hoping to turn things around and gain confidence. But the most important thing is I'm healthy, Kevin's healthy, and we're ready to roll."
But ... but ...
There are not buts. The Celtics wrap up a three-game road trip Monday in Utah, a team it walloped at home, and a win could cement the public approval rating.
With 13 games to go, the schedule doesn't get any easier for Boston and a couple of losses could push their devoted followers back to the ledge.
But, for now, there's no reason to fret. Celtics fans can revel in the fact that this team looks like a legitimate postseason contender for the first time in a long time.