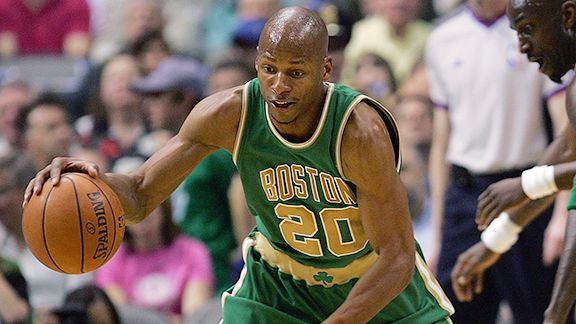 Ronald Martinez/Getty Images
Ray Allen heads the other way with a steal.During the first half of Saturday's win over the Dallas Mavericks, a Celtics defender got his hand on an entry pass, deflecting the ball back towards the perimeter. Unfortunately for Boston, it bounced right to Jason Terry, who spotted up and drilled an open jumper.
But good efforts don't go unnoticed and Celtics coach Doc Rivers spotlighted his team's active defense following the win.
"Paul [Pierce] kept his hands up, he was active, and [Rajon] Rondo had some great deflections," said Rivers. "Our deflections were way up tonight. We chart them, and they were way up. Even when they were scoring in that one stretch, we kept getting our hands on the ball, and they kept getting it back and scoring. But, you just think, at the end of the day, if you keep getting enough deflections, one of them will bounce your way and it will break the game open."
And that's what happened Saturday. With Boston clinging to a four-point lead with 90 seconds to play, Dirk Nowitzki lost control of the ball beyond the arc and while scrambling to pass it off to the wing, Paul Pierce deflected the pass. Pierce quickly chased the ball down and fed Rondo up ahead for a breakaway layup and a six-point cushion with 1:18 to play, essentially sealing the victory.
Those deflections helped Boston finish with 12 steals, including a season-high five for Kevin Garnett.