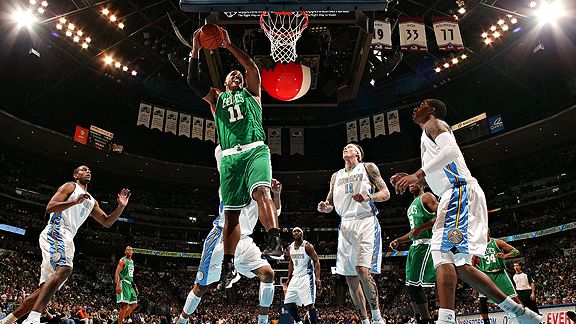 Garrett W. Ellwood / Getty Images
Glen Davis goes up for a rebound against the Nuggets.The Celtics are hosting "A Night for Haiti" benefit later this week and needed a player to serve as guest auctioneer at the event. The job description undoubtedly called for a high-energy (and vocal) person, so chances are the team didn't think twice before tapping Glen Davis.
Now, if a similar benefit had taken place a couple months back, the choice might have been decidedly more difficult. After all, when Davis first returned from a thumb injury, he seemed uncertain of his role, particularly with the offseason addition of Rasheed Wallace and a (somewhat) healthy Kevin Garnett.
But instead of trying to be something he wasn't, Davis has bottled some of that bubbly energy that he exudes off the court, and taken it with him on the floor looking to give Boston's second unit a spark.
Davis' recent efforts on the offensive glass are so fierce that he's a statistical anomaly. Davis is averaging more offensive rebounds per game than defensive, having hauled in 89 offensive boards compared to 77 defensive this season. Of the top 50 offensive rebounders in the league right now -- with no qualifications needed -- he is the only one even close to boasting more offensive offensive boards than defensive.
But it's that grit that has helped Davis make himself an invaluable member of the team this season. Late last month, Celtics coach Doc Rivers said it was as simple as this: Davis needs to play with energy to be successful.
"He's an energy player and when he becomes a finesse player, he's not as good," said Rivers. "When Baby plays with energy, he plays with less thought and great intensity. He's a really good basketball player with an unbelievable basketball IQ. When he plays at that level, that speed, he's pretty good. But when he starts thinking and playing at the same time, he's not very good.
"I think he's doing it harder now. I thought [when he returned from injury], he tried to ease himself in and was playing at a slow pace -- that's not him. Now he's playing hard. And when you're playing hard, everything else will come to him."
Davis put together another fantastic effort Monday night against Utah, registering 13 points and 4 rebounds over 13 minutes. Within his first minute on the floor against the Jazz, he scored five points and drew a charge, helping Boston's lead balloon to double digits in the first half.
Like his teammates, however, Davis endured a rough second half, including enduring an elbow from Paul Millsap that bloodied his nose and forced him out of the game (see the image of Davis being attended to below).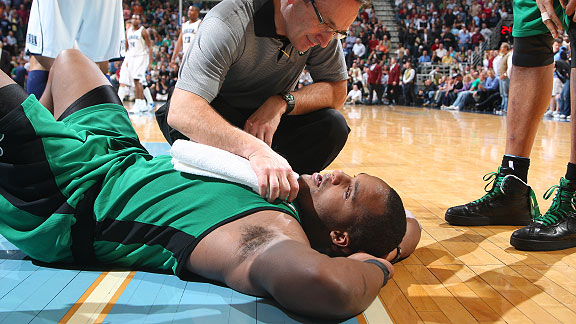 Melissa Majchrzak/NBAE/Getty Images
Glen Davis gets attended to after taking an elbow to the face.Follow the jump for more on Davis, who got a ton of ink in the Boston papers on Monday.
Both Boston papers featured Davis on the Celtics' offday Monday. With that much attention, it's a wonder he's not a trending topic on Twitter (damn you, Justin Bieber). But his energetic play certainly deserves the recognition, particularly at a time when the Boston bench has been inconsistent. Some of our favorite parts of today's stories on Davis are below.
From the Boston Herald's Mark Murphy:
Sometimes it has seemed that Davis' 20-foot, buzzer-beating game-winner in Game 4 of last spring's Eastern Conference semifinal series against Orlando was too much of a good thing - a big shot that sent Davis the wrong message. Doc Rivers still has something to say about that.

"If one shot defines your career, it won't be much of a career," the Celtics coach said.

So maybe Davis' more recent contributions have more value. The Celtics are off to a 2-0 start on what figured to be one of their more difficult road trips of the season, and Davis' off-the-bench spark has played a prominent role.

Now all he needs is to sustain that work.

"If you want to talk about the last two weeks, then yeah," Rivers said of Davis' progress. "Over the last two weeks he has been very consistent, and that's what we need him to be. He's not a finesse player and he has to remember that.

"When he comes in with energy, that's when things really start to happen for him. Even if he just comes in looking to bring energy every night, then he's going to be a better player."
From the Boston Globe's Julian Benbow:
Davis has had to realize that on a team with three potential Hall of Famers, one All-Star starting at the point, and a former All-Star coming off the bench along with a bite-sized scoring weapon, the Celtics don't need his scoring as much as they need his offensive rebounding.

"You definitely have to commit yourself to that in order to focus on the right things," Davis said. "That's what you have to focus on. I can't focus on anything else — if I have an opportunity to shoot, if I have an opportunity to take a guy to the rim. My job is to be an energy guy and I'm comfortable with doing that."

He grabbed four of the bench's nine rebounds in Saturday night's 102-93 victory over the Mavericks, and seven of the bench's 20 rebounds in Friday night's 94-87 win over the Rockets.

His 2.1 offensive rebounds a night are a team high and his 88 offensive boards are more than double the next closest reserves (Tony Allen and Shelden Williams, 39), even though he missed the first 27 games of the season with a broken right thumb.
Recently added swingman Michael Finley noted the other day that the Celtics don't boast a Jason Terry or Manu Ginobili and that the job of the bench is to simply provide a spark or do all the little things. No one epitomizes that better than Davis right now and the rest of the bench would be well served to follow his lead.