Boston Celtics forward Paul Pierce was named the NBA's Eastern Conference Player of the Week for leading Boston to four consecutive wins last week.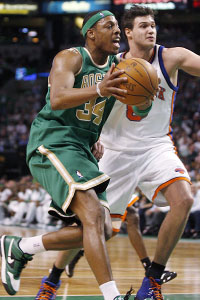 AP Photo/Mary Schwalm
Paul Pierce was honored by the NBA for his efforts last week.Pierce averaged 24.8 points -- 6.7 points above his season average of 18.1 points per game -- while shooting 63 percent in wins over Detroit, New York, Houston, and Dallas.
Courtesy of the NBA, here is a recap of the week for Pierce:
* March 15 vs. Detroit: Posted 15 points, three assists and two steals in a 119-93 win over the Pistons.
* March 17 vs. New York: Tallied 29 points and six rebounds in a 109-97 win over the Knicks.
* March 19 at Houston: Totaled 26 points, five rebounds and two steals in a 94-87 win over the Rockets.
* March 20 at Dallas: Collected 29 points, five assists, three rebounds and two steals in a 102-93 win over the Mavericks.
Los Angeles' Pau Gasol was the Western Conference Player of the Week. Other nominees for the Eastern and Western Conference Players of the Week were Atlanta's Jamal Crawford and Al Horford, Cleveland's LeBron James, Houston's Aaron Brooks, Indiana's Danny Granger, Milwaukee's Brandon Jennings and Phoenix's Amare Stoudemire.
Celtics coach Doc Rivers likes what he's seen out of Pierce, but still got on him about shooting more during a 29-point performance against the Mavericks on Saturday.
"He's starting to get his confidence," said Rivers. "Right now, he's still searching a little bit, you can see it during the middle of games more. I got on him in a time-out because I thought he was looking to pass too much, which I don't think I've ever had to say that to Paul, and told him to just be aggressive, just be who you are, and he was that."
Pierce has missed a total of 10 games this season due to a hodgepodge of injuries, including arthroscopic irrigation for a right knee infection, a left midfoot sprain, and a right thumb sprain. The Celtics went 5-5 without Pierce, but are 39-19 when he's in the starting lineup.
Rivers has stressed the need for the team to get Pierce going before the postseason and the results are showing over the past week.
"When Paul is aggressive like he is, there isn't a forward in the world that can guard him," Kevin Garnett said after Monday's win over the Pistons. "He's hard to guard when he is aggressive like that. He sets the tone, not just for the offense, but for the defense as well."