Celtics coach Doc Rivers had already waved the white flag by subbing in little-used reserves Tony Allen and Shelden Williams with 2:12 to play in Monday's game against the Jazz. But that didn't mean he planned to stop coaching, and his disappointment at a lack of a traveling call against Utah led to an early departure for Boston's helmsman.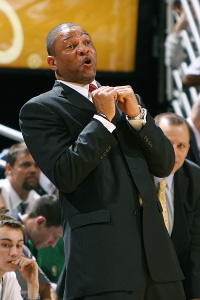 Melissa Majchrzak/NBAE/Getty Images
Doc Rivers earns his second technical and an automatic ejection in Monday's loss to Utah.Referee Ed Malloy hit Rivers with a technical for arguing against the non-call with 1:11 to play, then ejected him with a second technical for mocking the referee from the sideline.
"I just told Ed, please keep officiating the game," said Rivers. "That's all I said. I thought the play before [the technical] was a clear travel in front of him. So I just said, 'Hey Ed, it'd be nice if you'd keep officiating throughout.' He gave me a tech. Then I said, 'That's the best call you've made all night.' Usually, it's nice to earn them, but [Monday's technicals were] another bad call."
Rivers admitted he was surprised to earn the first technical, but he hammed it up a bit on the sideline after the initial infraction, leading to the heave-ho. Kendrick Perkins gave his coach a high-five at the end of the Boston bench as Rivers departed.
"Let me be clear, the refs didn't lose the game for us -- the Jazz did more things in the second half and I thought they played terrific," Rivers said before elaborating on his run-in with Malloy. "I was just upset. I didn't think he made the call in front of him, so, you know, I got thrown out for that. He has the right to do that. As a coach, they say you're out, and you've got to go. So I left."
Rivers did keep his sense of humor about the situation.
"I didn't swear -- we're in Utah, so I respect that," Rivers joked, drawing laughter from reporters.
It was Rivers' second ejection of the season. He was also tossed after a meltdown against the Hawks on Jan. 11 when he took umbrage with a flagrant foul (later rescinded) called on Glen Davis.