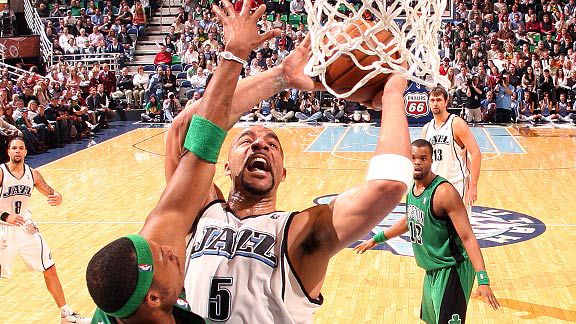 Melissa Majchrzak/NBAE/Getty Images
Only foul trouble slowed Carlos Boozer Monday night.The first inclination is to suggest Boston showed its age Monday night in Utah.
But playing their sixth game in nine days, including the third road contest in four nights, the Celtics simply appeared to run out of gas while falling to the Utah Jazz 110-97 at the EnergySolutions Arena in Salt Lake City.
The Celtics finished a rugged road trip at 2-1, and have won five of their last seven. The Green failed to lock up a playoff berth Monday (a formality at this point), but more disappointingly, also failed to gain ground on Atlanta in the race for the third seed in the Eastern Conference. The Hawks fell to surging Milwaukee.
Despite a lackluster final 26 minutes Monday, Celtics coach Doc Rivers didn't seem overly concerned.
"No, we just lost the game," said Rivers, when asked if Monday constituted a step backward as his team's four-game winning streak was snapped. "We're not going to overdo this. We'll let [the media] analyze this and figure out why we lost. They outplayed us. They made shots, moved the ball, attacked us. They were the better team tonight."
Rivers seemed to suggest that the positive energy from a successful start of this road trip wouldn't be tempered by Monday's loss.
Sure, the Celtics weren't happy to give away a double-digit lead after outplaying the Jazz so thoroughly in the first half, but Boston's starters simply didn't have it Monday.
It happens. As long as it doesn't become a pattern over the final 12 games, the Celtics can live with losing to a quality opponent.
Even still, Boston is likely to look back and realize it let one get away, particularly as its previously rock-solid defense went soft.
"We closed out the first half terribly," said Rivers. "We had a [12-point] lead, then we had four or five turnovers. What we did was give them hope. They cut it to five [at halftime]. Then in the third quarter, we didn't get any stops and they scored every time down. Then we stopped moving the ball and everybody was trying to make plays on their own.
"That happens. I can live with that."
Click HERE to read the full story.