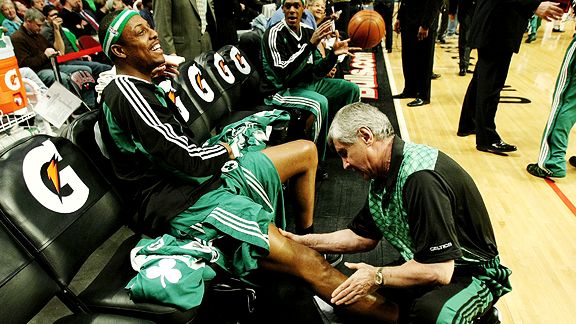 Jonathan Daniel/Getty Images
Paul Pierce's right knee has bothered him more than he's let on.After ending his 10-day media silence, Celtics captain Paul Pierce revealed Monday in Utah that he underwent a third right knee irrigation following the All-Star Game in Dallas.
Speaking to the assembled media for the first time since a victory over the Indiana Pacers on March 12, Pierce opened up about injury limitations this season after enduring a hodgepodge of maladies that have caused him to miss a total of 10 games. While admitting he's rushed himself back at times, including in order to participate in the All-Star festivities, Pierce revealed a previously undisclosed procedure on the same right knee that sidelined him in late December.
Pierce underwent a pair of drainings after developing a knee infection following a win over the Pacers on Dec. 22. He missed five games and endured two procedures to flush the knee, including one on Christmas Day while his teammates battled the Magic in Orlando.
Pierce is feeling healthy now and the results show as Monday he was named the Eastern Conference Player of the Week for his efforts in leading Boston to a 4-0 mark.
Here's more on Pierce's knee disclosure in the Boston papers. From the Herald's Mark Murphy:
"Yeah, I was a little stubborn, since in the past I was able to play through it, and it really affected my play," Pierce said at the morning shootaround for last night's 110-97 loss to the Utah Jazz.

"It was a combination of everything. My knee, after the All-Star break I got it drained, and it took me a few weeks to get the strength back in that. Then I sprained my thumb. It was the little things that were happening to me."

The admission by Pierce provided coach Doc Rivers the opportunity to interject with a huge I-told-you-so.

"That's what I said two weeks ago, but there's nothing you can do about it now," Rivers said. "I thought he came back too quick, and it hurt him for a period longer than if we had rested him more or rehabbed him more. Nothing we can do about now. We're kind of past it.

"He's looking great. With Paul, obviously, we're trying to get him back to being the go-to guy, the guy coming out of timeouts you can lean on, and he's starting to get back to that, which is really important."
From the Globe's Gary Washburn:
Pierce was more troubled by his right knee than he let on. He revealed he had the knee drained immediately after the All-Star Game Feb. 14 and that led to a four-game stretch in which he was 14 for 43 from the field. Finally, coach Doc Rivers watched Pierce struggle to get a shot off during a nationally televised loss at Denver and sat him for three games.

While the play of Kevin Garnett has improved dramatically from earlier this season because his surgically repaired right knee is nearing total stability, Pierce has dealt with a series of injuries, from his knee to his wrist to his ankle. And he has endured ups and downs on the court because those injuries have affected his speed and ability to get open.

"When you're playing at less than 100 percent, it's tough, especially at the age I'm at right now,'' he said. "Before, I could bounce back a little bit faster, but I learned a lot this year about myself with the injuries that I need to take more time off. I was a little stubborn, because in the past I was able to play through it and [this time] it really affected my play."