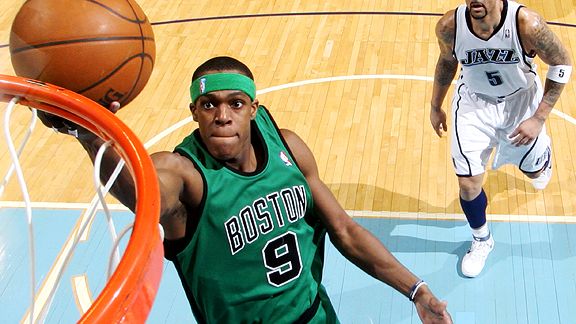 Melissa Majchrzak/NBAE/Getty Images
As Rajon Rondo displays, it's all how you finish for the Celtics.Are the real Celtics the team that blew away Houston and Dallas or the one that faded against Utah? Peter May offers some signs to watch over the final 12 games that might give us a clue:
You could argue that the Boston Celtics' three-game trip was already a success before the game at EnergySolutions Arena tipped off. There were two big wins in Texas, with the Celtics showing the kind of play and urgency that defined them two years ago.

Then came Utah. A 110-97 beatdown with all systems breaking down after halftime. Oh well.

It still was a good trip for the Celtics, if for no other reason than we saw glimpses, or flashes, of what they can do and what they still need to do to be viable championship contenders. We didn't see much of it in Utah beyond a superb first quarter. But we saw it in Houston and we saw it in Dallas against what was a hot (but cooling quickly) Mavericks team.

Defense will determine how long the Celtics keep playing. That does not constitute a news bulletin. They know it. We know it. Everyone knows it. They played defense in Houston, holding the Rockets to 87 points and 39.5 percent shooting. They held the Mavericks to 93 points and 46 percent shooting.

In both games, defensive anchor Kevin Garnett appeared to be much closer to the KG of a couple of years ago than we've seen in a while. Then he went Billy Paultz on us against Utah. Paul Pierce was a point machine against the Rockets and Mavs, earning conference player of the week honors in part for those games. Then he came up shooting blanks against the Jazz.

The Celtics looked tired against the Jazz. It was their third game in four days and they had no response to the Jazz in the second half. The season-long bugaboos -- turnovers, rebounding -- surfaced again. They lost to a very good team on the road. It happens. Only one Eastern Conference team -- Atlanta -- has won in Salt Lake City.

So what does it all mean going forward? The mission statement continues to be "we just want to get better." Doc Rivers admits it sounds corny and that most people probably don't believe him. Rivers still hopes that the team he had in November and December, the one before the injuries hit, can reemerge.
Click HERE to read the full story.