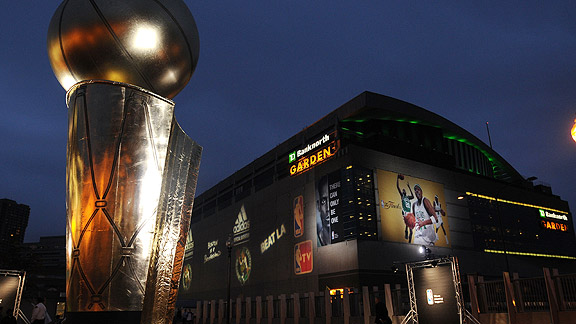 NBAE/Getty Images
If the Celtics want to see another image like this, they need to re-establish their home dominance.The Boston Celtics return home Wednesday night to kick off a season-long six-game homestand against the Denver Nuggets.
Winners of three in a row, and five of their last six overall, at the TD Garden, the Celtics have shown signs of re-asserting themselves at home after some uncharacteristic struggles here this season. But there's plenty of work to be done, particularly given the strength of the competition trekking to Causeway St. over the next 10 days.
The Celtics welcome five consecutive Western Conference foes, including three that are playoff bound (Denver, Oklahoma City, San Antonio) and two scrappy foes (Houston, Sacramento), before an Easter Sunday showdown with the Eastern Conference-leading Cleveland Cavaliers.
"It's tough, but it's at home," Celtics coach Doc Rivers told reporters after Monday's loss to the Jazz. "It's a nice chance to re-establish us at home. We haven't done that this year, yet. We haven't had a lot of rhythm at home. We have a chance to do that now."
The Celtics longest winning streak at home this season? Three games. Boston won its first three home contests of the season (Charlotte, Chicago, and New Orleans) and repeated it three times since -- including their current run -- but haven't been able to get over that hump. That alone shows the team's inability to maintain consistent play this season.
As the team endured a stretch of 37 games spanning into the new year where it played sub-.500 basketball (18-19 overall after a loss to Cleveland on March 14), captain Paul Pierce often lamented the team's inability to take care of business at home. Pierce made the point that, if the Celtics hadn't suffered so many lapses here, having already lost twice as many games (12) as each of the past two seasons (6), then Boston might be battling Cleveland for the top spot in the East.
Instead their battling the Hawks for the third seed, which is reason enough to inspire them to play better at home over the final 12 games.
"It's a good test for us," Pierce told reporters after Monday's loss. "We definitely [play] some good teams. It's good preparation -- a lot of playoff-type basketball is going to be played the next couple of weeks, with everybody positioning for seeding.
"It's going to be a great test for us. We can get some momentum at home. We've played well on the road, but we've got to play better ball at home."
The Celtics' struggles at home are really quite baffling. Boston is averaging more points (100.2 home, 97.5 road), assists (25.5 home, 21.9 road), and steals (8.97 home, 8.57 road) at home than on the road this season. What's more, they've committed less turnovers at home (15 home, 15.6 road). About the only thing they've done better on the road is rebound (37.8 home, 39.4 road) and block shots (4.2 home, 5.6 road).
But maybe that actually explains the nearly identical records home (21-12) and away (24-13). Unlike most teams that excel at home and struggle on the road, the Celtics actually ride a pretty even keel. Even they are likely to admit their home numbers should be a step ahead of their road marks. Just look at a team like Denver, which visits the Garden tonight. The Nuggets thrive at home (30-6) and struggle on the road (17-18), but their numbers are wildly different, evident by looking at just their scoring output (111 points per game at home, 104 on the road).
No one is expecting the Celtics to be perfect over the final eight home games of the year, but if Boston wants to send a message to competition, re-establish the Garden as a tough place to play, and undo some of the damages incurred by inconsistent play here over the first four months of the season, this stretch will provide that opportunity.