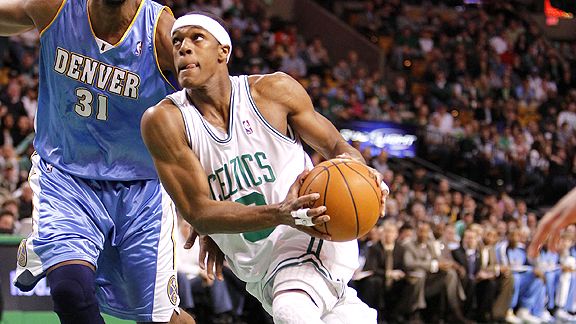 Greg M. Cooper/US Presswire
Rajon Rondo produced his second triple-double of the 2009-10 seasonBOSTON -- A collection of postgame news and notes after the Boston Celtics topped the Denver Nuggets, 113-99, Wednesday evening at the TD Garden:
The rundown (a quick look at the postgame headlines)
* Rondo makes a triple-double look easy
* Rivers didn't like it, but C's had success small
* Pierce atones for last outing vs. Denver
Rondo makes a triple-double look easy
Celtics point guard Rajon Rondo logged only his second triple-double of the season, and sixth of his four-year career, but he made the feat look so easy Wednesday night, it's easy to ignore how rare the accomplishment is.
Rondo registered 11 points, 11 rebounds and 15 assists, capping the triple-double with a rebound off a missed free throw with little more than three minutes to play. He quickly grabbed an offensive rebound (one of six on the night) and assisted on a bucket at the other end to cap his stat line, which also featured four steals over 36:17.
"He hurt us getting to the rim," said Denver assistant coach Adrian Dantley, who is filling in for George Karl as he convalesces. "We tried to take away his penetration, but Rondo's an excellent ball player. What can you say? We tried to take away his penetration, but at times it was very tough."
Echoed Celtics coach Doc Rivers: "He was absolutely terrific. He just ran the show. We put the ball in his hands and he just made good decisions. He was our leader."
If it's odd to hear Rivers call the just-turned 24-year-old guard the team's leader, it's a thought shared by even the newest Celtics.
"It's weird, you've got Rondo running the show and [Kevin Garnett], he's a [veteran]," said Nate Robinson. "But it's like you've got a guy out here, a young guy, running the show and the vets and everybody are just listening and trying to play together. That's what makes this team, nobody plays with egos. It's a fun, great group of guys and I love being on this team."
Rondo registered his 15 assists in a variety of ways, mostly generating easy layups for teammates. Here's how his assist distribution broke down, with help from the wizards at ESPN's Stats and Information: 7 layups, 4 mid-range jumpers, 2 3-pointers, 2 dunks.
A handful of those layups were by Pierce, who, despite foul trouble, found a rhythm early and poured in a team-high 27 points on 10-of-16 shooting.
If Rondo had been in any sort of funk, he certainly broke out Wednesday, especially on the offensive end. According to ESPN Stats and Information, Rondo averaged 7.2 points and 42.9 percent shooting from the floor over the previous five games. By comparison, over the prior six games, he averaged 16.7 points and 52.8 percent shooting.
What's more, Rondo had been averaging a mere 8.6 assists and 4.5 rebounds per game this month, stats he pretty much doubled Wednesday.
Rivers didn't like it, but C's had success small
When the Celtics held their most recent official practice on March 13, they closed out the session by utilizing Michael Finley with a small lineup that featured the starters minus Kendrick Perkins. Rivers brushed off the suggestion that the team was preparing to go small in an upcoming matchup with the Cleveland Cavaliers, but noted that it was important to practice with various lineups because you never know when foul trouble will force you to utilize a certain look.
Sure enough, 11 days later, the Celtics were forced to go small due to both foul trouble and the look the Nuggets gave Wednesday evening.
"You know, they made a run and we were really stubborn, we didn't want to go small," said Rivers. "We really didn't. But we really had no choice. And, fortunately, our last practice, we actually worked on our small offense, so that allowed us to run it."
The small lineup at times featured Rondo, Robinson, Pierce, Garnett and Finley. Even when they subbed, Rivers stayed small utilizing Rondo, Pierce, Garnett, Ray Allen and Tony Allen. The result? Boston stretched a nine-point lead back to 17 and coasted to the finish line of a 14-point triumph.
"I wanted to stay big," said Rivers. "Honest to God, I did not want to go small, more because I wanted the bigs to play [Denver's] quickness. But we just couldn't, we had to match up. They started making shots, that was more of it. We put Rondo and Nate together, and that was good for us."
Pierce atones for last outing vs. Denver
When Boston traveled to Denver last month, Pierce labored while connecting on just 2-of-10 shots for 5 points over 31 minutes. Rivers then banished the captain to the bench to rest a sprained right thumb suffered two games earlier against the Los Angeles Lakers.
Pierce missed three games, but recently admitted he rushed himself back from injury too often this season. A healthy Pierce is clearly making a difference.
Pierce scored a team-high 27 points on 10-of-16 shooting and added 7 rebounds, 2 assists and 2 steals over 32:45.
"The Paul Pierce that you saw out in Denver wasn't the Paul Pierce that usually shows up to play," said Pierce. "I've battled through a lot of injuries this year and right now I'm as healthy as I've been all year and this is our time to start playing well. It's coming from a number of us, not only me, but Kevin, Rondo, Ray. It's that time of the year for all of us to start picking up our play."
Pierce, fresh off being named Eastern Conference player of the week last week, is averaging 24.4 points per game over his last five games, more than six points more than his season average.