BOSTON -- To the untrained eye, it might have looked like Tony Allen has been sitting on the Boston Celtics bench in a green-and-white warm-up suit he has found difficult to shed since the addition of veteran swingman Michael Finley.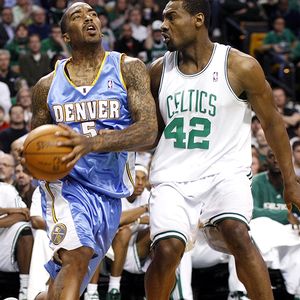 Greg M. Cooper/US Presswire
Tony Allen's energy on both ends of the floor (here he guards Denver's J.R. Smith) gave the Celtics a critical boost Wednesday.To Allen, he might as well have been wearing an all-black suit with a hood. Just like a ninja.
"Well, I just look at it like we've got a quiet assassin and whenever you all want to unleash him, he's going to be ready," Allen said after pouncing off the pine to score 13 points on 5-of-6 shooting and play 20 high-energy minutes in a 113-99 triumph over the Denver Nuggets on Wednesday.
This from a player who had logged just 36 minutes of court time since Finley's arrival, including four DNPs in a 10-game span. Allen had scored just 10 points during that stretch on 3-of-8 shooting.
"Basically, I've been listening to the coaches," said Allen. "'Stay ready, stay ready, stay ready.' That's what I've been doing, conditioning my body, working on my game with the coaches and strength coach. Today was a day my number got called and I took advantage."
It's been a while since Rivers called on No. 42 in any sort of meaningful situation. During Monday's loss in Utah, Allen played a whopping 6.5 seconds in the first half -- to provide defense in the final first-quarter possession -- then scored five points in two minutes of garbage time.
Allen saw a handful of minutes in three previous lopsided wins at TD Garden (and before that, one lopsided loss to Memphis), but you'd have to go back to the very start of the month to find Allen logging quality burn in a non-blowout situation.
Like a good ninja, he waited patiently.
"Ain't no frustration over here, because I know what I'm capable of," said Allen.
Click HERE to read the full story.