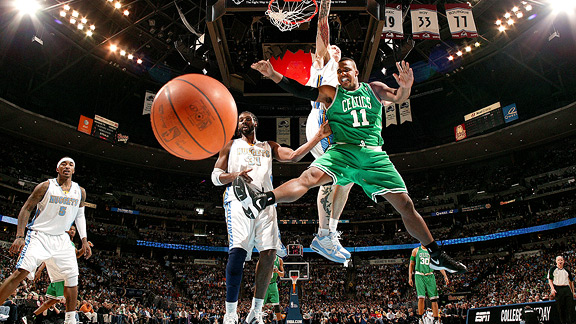 Garrett W. Ellwood / Getty Images
Glen Davis has put the Celtics in offensive-rebounding mode.It's no secret the Celtics have struggled on the glass this season, particularly in generating offensive boards. Boston entered Wednesday's game against the Nuggets ranked No. 28 in the NBA in offensive rebounding rate, but took advantage of the fact that the visitors were playing without Kenyon Martin (who had eight defensive boards during the first meeting in Denver last month).
But just how extraordinary was Boston's efforts Wednesday? The folks from ESPN Stats and Information help put it in perspective.
The Celtics generated 17 offensive rebounds -- double their season average of 8.5 per game. And while that aided them in putting up a season-high 90 field-goal attempts, Boston still maintained an offensive-rebound rate (the percentage of offensive rebounds vs. total number of available boards) of 37.8 percent, which is 15 percent higher than their season average (22.6 percent).
Boston finished with a 45-36 advantage in total rebounds.
"We've been trying to [make offensive rebounds a focus]," said Kevin Garnett. "I think [Glen Davis] as of late has been in offensive-rebounding mode. I think he has been averaging three or four these last couple games. But the focus is always to rebound, get the ball to [Rajon] Rondo, hit the lane and run the court; speed the game up and use our quickness, by getting the ball to Paul in his spots. Rebounding is totally a focus right now going down to these last couple of games."
Rondo snared 11 rebounds as part of his triple-double, registering six on the offensive glass. Four of Garnett's 10 boards came on the offensive end, while Kendrick Perkins, Tony Allen, and Glen Davis added two offensive rebounds apiece against an undersized Denver squad that gave up second-chance points in bunches.
Boston thrived at both ends, sparking the offense in both directions with their aggressiveness on the glass.
"It was totally a group effort," said Garnett. "I thought Paul and Rondo, they came back, especially when we went with the small lineup. I thought everybody took a group effort to come in and crash the glass. We knew that if we could rebound, we could get fastbreak points. We can get out -- get the ball to Rondo -- then hit the lanes and get some easy baskets. But it was totally a collective effort tonight."