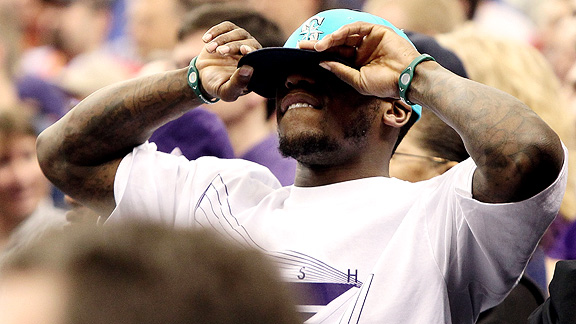 Jim McIsaac/Getty Images
Nate Robinson can't watch as University of Washington was ousted from the NCAA tournament.Celtics guards Rajon Rondo and Nate Robinson took advantage of the team's offday Thursday by making the trek to Syracuse to watch their respective alma maters play in the Sweet 16 of the NCAA men's basketball tournament at the Carrier Dome.
Rondo walked away happy after top-seeded Kentucky dispatched 12th-seeded Cornell, 62-45, in the nightcap. Robinson couldn't bear to watch (see photo above) as 11th-seeded Washington fell to second-seeded West Virginia, 69-56. Robinson still holds bragging rights over coach Doc RIvers after his Huskies topped Marquette in the opening round of tournament play.