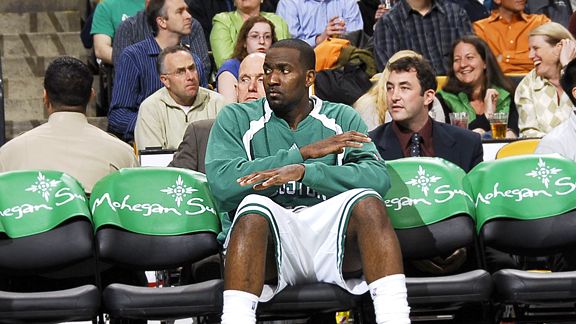 Steve Babineau/Getty Images
Kendrick Perkins (sore left knee) missed only his second game of the year.BOSTON -- A collection of pregame news and notes before the Boston Celtics host the Sacramento Kings Friday night at the TD Garden:
The rundown (a quick look at the pregame headlines)
* Perkins (sore left knee) inactive; Wallace to start
* Loose balls: A collection of quick notes from pregame
Perkins (sore left knee) inactive; Wallace to start
Celtics center Kendrick Perkins is inactive with a sore left knee, Rasheed Wallace will take his spot in the starting lineup.
Coach Doc Rivers didn't offer news of the injury during his pregame chat with the media and it was only revealed when lineup cards were turned in. Perkins logged only 23 minutes in Wednesday's win over the Nuggets, scoring seven points and grabbing five rebounds. He started the second half, departing with 3:47 to play in the frame, and did not return as Boston opened a comfortable lead.
For Perkins, it's only the second game he's missed this season. He did not accompany the team on a trip to Detroit earlier this season while battling flu-like symptoms. The Celtics emerged with a 105-100 triumph that night.
The Celtics are 5-4 with Wallace in the starting lineup this season. He also started a stretch of games when Kevin Garnett was sidelined with a hyperextended right knee.
Loose balls: More time for TA, Arenas reaction
* Based on his performance against the Nuggets (13 points in 20 minutes), Celtics coach Doc Rivers suggested there could be a larger role carved out for him moving forward, even as the team prepares to shrink its rotation in the playoffs.
"I think so, we'll wait and see how the games going, with matchups," Rivers said when asked about an uptick in playing time. "Tony has been terrific. As I said before [the Nuggets] game, he really has been. We're hoping keep him in that place, that'd be terrific."
Rivers reaffirmed that he doesn't feel the need to shrink the rotation until the playoffs are actually here, but seemed to hint that Allen could still play his way into action.
"We pretty much know the 9-10 guys, but maybe one spot is still up for grabs," said Rivers. "Other than that, we're pretty set with where we want to be."
* Ray Allen was asked about the Gilbert Arenas sentencing and at first joked as if he wasn't going to talk about it by noting, "Both teams played hard" (a familiar catchphrase when avoiding saying something negative about officials and others). Allen ultimately did elaborate, stressing that he thinks Arenas is a good person, but noting that the law is the law. It did lead to a fairly humorous back and forth with Nate Robinson as the pair discussed the potential perils of prison life.
* Rajon Rondo, on the verge of establishing a new Celtics' single-season steals record, held court with the media before Friday's game, talking about the art of steals and how he's learned to gamble less this season (which obviously hasn't hurt his steal numbers).
Rondo needed a single steal Friday to surpass Rick Fox, who swiped 167 passes during the 1996-97 season.
"I don't have the record," Rondo joked as he was peppered with questions. Keeping it light, he noted, "I hope I trip and fall on one tonight."
Rondo (678 assists) also entered the game within striking distance of Sherman Douglas' mark of 683 assists in 1993-94. That's good for second on the Celtics' single-season record book. Rondo is also closing in on Bob Cousy's record of 715 assists set in 1959-60.