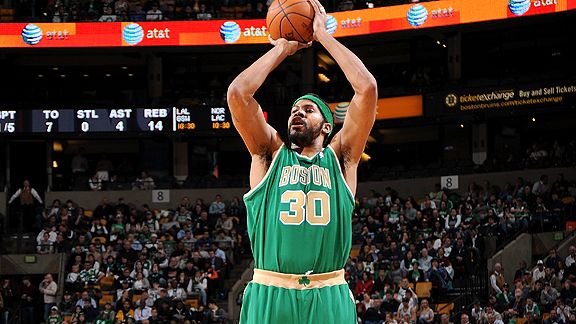 Brian Babineau/NBAE via Getty Images
Twenty-five minutes, one rebound for Rasheed Wallace. But the C's still won.BOSTON -- Instant reaction after the Boston Celtics posted a 94-86 triumph over the Sacramento Kings Friday night at the TD Garden:
How the game was won: The end result was seemingly never in doubt, but the Kings actually managed to trim a 24-point, second-half deficit to six with little more than three minutes to play. Rajon Rondo set a career high with 18 assists, while Paul Pierce (22 points) and Ray Allen (20 points) shouldered the scoring load for Boston.
Champions alert: The Celtics needed a win to wrap up the Atlantic Division title, but Toronto beat them to the punch. With the Raptors' loss to Denver, Boston secured the division crown for the third straight season.
Turning point I: Up five with five minutes to play in the first quarter, the Celtics embarked on a 14-4 run to close out the frame and open a 15-point advantage. That lead ballooned as high as 24 late in the second frame as Ray Allen scored 18 first-half points and Rajon Rondo handed out 10 first-half assists.
Turning point II:Clinging to that six-point lead late in the game, Pierce scored off an easy inbound feed as Boston scored the game's next five points to push the lead back to double digits.
Stat of the game: Boston shot 40 percent (below Sacramento's 42.5 percent), but still emerged with the win thanks in part to 13 offensive rebounds.
Stat of the game II: The Celtics finished with a season-low eight turnovers.
Unsung hero: With Kendrick Perkins sidelined by a sore left knee and Rasheed Wallace providing little in the way of production, Shelden Williams came off the bench to chip in 6 points and 3 rebounds over 23 minutes.
What it means: The Celtics have now won five in a row at home, prolonging their longest winning streak of the season at the TD Garden with four more games to go on this homestand. After a laugher of a first half, it got a bit dicey in the second half, but Boston kept the Kings at arm's length.