BOSTON -- A collection of postgame news and notes after the Boston Celtics defeated the Sacramento Kings Friday night at the TD Garden:
The rundown (a quick look at the postgame headlines)
* Big Baby finds a way into Doc's doghouse
* Doc is a nickname... but he has injury updates on Perk, Nate
* Atlantic Division champs! But that champagne stays on ice
Big Baby finds a way into Doc's doghouse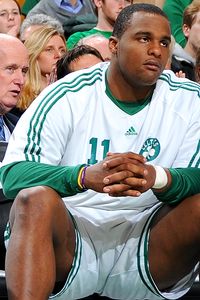 Brian Babineau/NBAE/Getty
Glen Davis' view from the doghouse.Even as the Kings bit into a Celtics' lead that soared as high as 24 points in the second half, little seemed like it could frustrate a Celtic team that had everything going for it over the first 2 1/2 quarters of the game.
Then Glen Davis picked up an ill-advised technical foul late in the third quarter and Celtics coach Doc Rivers responded by benching him for the remainder of the game.
"You don't get a tech in that situation," said a clearly annoyed Rivers, who immediately yanked Davis with Boston up 72-54 with 1:15 remaining in the third frame. "When you're up 18 points, again, your team is struggling. You're not [Kevin] Garnett or one of those guys. You don't get the liberty to talk anyway to the officials. I don't know, clearly, he earned it, I guess. But you just don't get it. And he wasn't playing well anyway, at that point. But I thought he was playing like the score and I just told him, he's not at that point yet in his life where he can turn it on or off. And we need him to be an every-possession player. And I didn't think he was that tonight."
Davis plowed over Sacramento guard Beno Udrih while scrambling for a loose ball and earned his fourth foul. Surprised by the call on a night in which he was just 1 of 4 from the field for five points with four rebounds, Davis vented to the nearest official and quickly picked up the technical.
The Kings went on to rally within six before Boston's starters secured the victory late.
Marquis Daniels also spent a bit of time in that doghouse Friday, not checking into the game until the final 2:30 minutes of the third quarter. Given Daniels' struggles recently, Tony Allen logged 12 minutes of action. Daniels chipped in 2 points on 1-of-3 shooting with a minus-10 in the plus/minus category over six minutes as the bench universally struggled.
Doc is just a nickname... but he has updates on Perk, Nate
Rivers is fond of nothing that "Doc" is just a nickname, but he did provide a brief rundown on the sudden burst of maladies affecting a team that seemingly just got healthy for the first time this season.
Kendrick Perkins, who sat out Friday's game with a sore left knee, has been diagnosed with tendinitis. Rivers expects Perkins will also sit out Sunday night's game against the Spurs. Nate Robinson, who left Friday's game midway through the second quarter with what the team dubbed a sprained left ankle, lobbied to return, but Rivers pegged his chance of playing Sunday at a coin flip, based on how the swollen ankle responds the next two days.
Rivers on Perkins: "It's tendinitis. I guess it's been bothering him for a while, but I didn't know to how bad it was. And [Celtics trainer] Eddie [Lacerte], right after the game [Wednesday vs. the Nuggets] came to me and said, 'Hey, you've got to talk Perk into sitting down because it's not working with me.' So we just had a little conversation."
Rasheed Wallace started in place of Perkins and was woefully ineffective, logging a mere one rebound over 25 minutes with six points before fouling out. He did register three steals and three blocks.
Rivers on Robinson: "Nate wanted to come back in in the second half, but his ankle was huge. And you know you just got to get our guys to understand that it's about being healthy."
Allen got time as the backup ball-handler with the second unit, finishing with six points on 3-of-4 shooting with four rebounds and an assist.
Atlantic Division champs! But that champagne stays on ice
Before the Celtics could even secure the Atlantic Division title with a win over Sacramento, Toronto handed them the division crown with a loss Friday night to the Nuggets. But. two days after ensuring themselves a postseason berth, the champagne remained on ice in Boston.
"I didn't know that," Rivers said of the division title. "So, I guess that's good. It's obviously not what we're trying to do. I mean, it's nice -- 20 years from now, when I'm bragging to my grandkids and lying. Obviously, when you have a team with your goals so high, you don't really focus on it."
Celtics forward Kevin Garnett echoed Rivers' sentiments: "I wasn't even aware of that. I don't think that anybody in the locker room said anything like that. I think tonight we were more appreciative of [Rajon] Rondo, and his accomplishments. Any time you get any kind of record in this organization on a team like what we have, it's a huge thing. We are just of appreciative of being in the moment, being here, being a part of it. It is a very special moment, and no one even talked about the division title tonight. Tonight was Rondo's night."
Click HERE for more on Rondo's night.