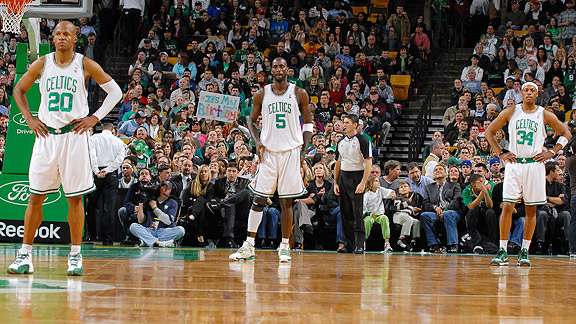 Brian Babineau/NBAE/Getty Images
The Big Three got more court time than Doc Rivers wanted Friday.Despite winning six of their last seven games and boasting a season-long five-game winning streak at home, if there was one lament of the Celtics following Friday's closer-than-it-should-have-been triumph over the Kings, it's that the team is still struggling to put a full 48 minutes together.
The Celtics have endured a number of second-half collapses at the Garden this season. And while they've at least figured out a way to ultimately win these games -- at least for the past two weeks -- it's still a troubling trend that coach Doc Rivers would like to see end sooner than later.
On Friday, Rivers watched his team open a 24-point lead on numerous occasions both before and after halftime. The Celtics would have liked to lean on their bench the rest of the game after the lead spike at 24 with 2:53 to play in the third quarter, but that's when the wheels starting coming off a bit and the Kings ultimately rallied to within six points by the same point in the fourth quarter.
"I thought we stopped playing," said Rivers. "I wasn't real happy with it. It was really difficult for me to put the starters back in. I was just not going to -- but I did. It wasn't the bench's fault either and I told the starters that. I think it was [a] 24[-point lead], I don't even know what it was, but I thought before [the starters] went out it was 18, and I thought that was the difference. [The Kings] had a chance. We had the ball three or four or five times with the 24-point lead, had a chance to get it to 30, and I thought we didn't because of the way we started playing. And that allowed them to get to 18.
"Without Nate [Robinson, injured ankle], putting Tony [Allen] in at the point, I just though, now their margin of error was a four-point swing and [the bench] had to come out. So I didn't think it was fair to the bench. It looked like it was the bench's fault, and it really was not. But we won the game, and that's what you're trying to do. The only thing is, we're trying to become a 48-minute team and we were not. I told them, I'm not going to let that cloud how well we played for two and a half quarters. That was terrific basketball. We were getting stops, the ball was moving. And everything was great. So, overall when I watch the film, I'll watch that."
Kevin Garnett and Rajon Rondo were asked if they were disappointed they had to come back in and there was a pregnant pause before they answered.
"No, I mean we were set up right there, to blow the game open, and I will admit we didn't do a really good job at finishing the game off," said Garnett. "But I thought that we came out with pretty decent energy. For the most part, we didn't ... give the bench enough room for error, if you will, to come in and play and make mistakes and all of the that. We were down a couple of guys and all of that other stuff.
"We know we can play better, we will play better, but we never mind playing. You don't want to get that messed up, or misconstrue anything like that. When you play, you play to open up the lead, and get a certain margin so that you have the freedom to sit down. But any time you have to come in the game, that's cool either way."