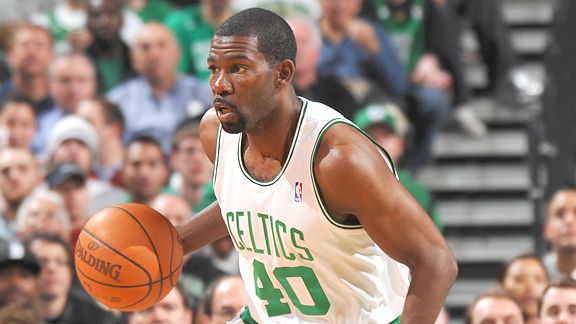 Brian Babineau/NBAE/Getty Images
Michael Finley holds no ill will towards the Spurs, but wants to 'destroy' his old team Sunday.Unless the Celtics and Spurs meet in this year's NBA Finals, Michael Finley's extensive knowledge of San Antonio's playbook might be rather useless in Boston.
Heck, it might not even hold much value for one night.
Finley, who spent the past three-plus seasons with the Spurs before requesting and receiving his release earlier this month, got thrust into coach mode Saturday as Celtics coaches had him demonstrate one set San Antonio is likely to run when they visit the TD Garden Sunday night (ESPN, 8 p.m.)
Paul Pierce suggested Celtics advance scout Jamie Young didn't have to worry about his job as, "It didn't look like [Finley] knew too many of the plays," joked Pierce.
Fortunately for the Celtics, they brought Finley in for the boost they thought he could provide on the court, believing he had more left in the tank than San Antonio thought.
After averaging 3.7 points per game on 38.1 percent shooting in 25 appearances for the Spurs this season, Finley is contributing 5.8 points per game on 55.1 percent shooting in 11 games for Boston. A bit of a roll of the dice when the Celtics signed him for the prorated veteran's minimum, Finley has cemented himself a coveted spot in Boston's rotation by providing instant offense off the bench.
But that doesn't mean the Celtics didn't mind picking his brain a bit Saturday for a little competitive edge in Sunday's game, particularly as they prepare to likely be without the services of center Kendrick Perkins (left knee tendinitis).
"If [Finley] doesn't know [the playbook], then we're [in trouble]," said Rivers. "He should know it as much as anybody ... He has to be our best scout [Sunday] -- he should be better than Jamie."
Click HERE to read the full story.