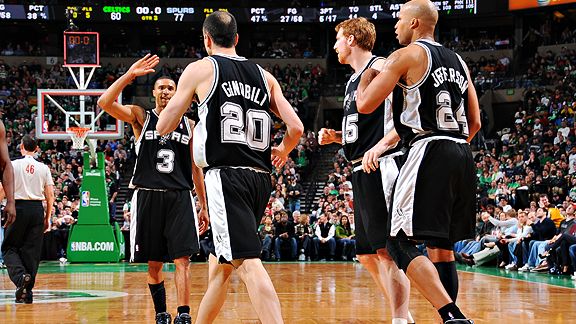 Steve Babineau/NBAE/Getty Images
The Spurs had plenty of reasons to celebrate at both ends of the court Sunday.A couple of noteworthy stats from our ESPN Stats and Information folks that showcased why Boston struggled so badly in Sunday's loss to the Spurs:
1) The Celtics finished with their lowest point total since the Big Three united, highlighted by an inability to hit shots beyond the paint. Boston shot 37 percent overall (its second worst performance this season) and scored 30 second-half points, matching a season low. A big part of those troubles stemmed from an inability to score on jump shots.
The Celtics were a cringe-worthy 7 of 40 overall (17.5 percent) on jump shots for the game. Rasheed Wallace hit the team's only 3-pointer of the night in the first half, and Boston finished 1 of 14 from beyond the arc overall (missing all five trifectas it took in the second half).
2) At the other end of the floor, it wasn't much prettier, with Manu Ginobili slaying the Celtics off the dribble. Ginobili scored 20 of his game-high 28 points in the middle frames, handing out five assists in that span as well. The Spurs outscored Boston, 58-37, during those two quarters. But Ginobili proved most effective creating offense for himself, attempting 12 of his 19 field goals off the dribble (including 9 of 13 in the middle frame). Not only that, he got to the rim for a layup attempt eight times in that span.
Ginobili finished 7 of 12 off the dribble (5 of 9 in the paint) for 21 points. Off the pass he was 2 of 7 for 7 points.
"Manu's been playing great for the last month," said Spurs coach Gregg Popovich. "He's basically taken over the team. He's been the same Manu we've had when we won championships, so you know without Tony [Parker] it's really important for somebody to step up like that and he's done it."
The Celtics lobbed similar compliments, with Kevin Garnett stressing that Ginobili "imposed his will on the game." Even still, Wallace couldn't resist an under-the-radar jab.
"Manure did his thing," said Wallace, who earlier this season dubbed Toronto's Hedu Terkoglu, "Turkododo" while complaining about his flopping. "He opened the floor for them, we tried to trap him, but he made the basketball pass to the open man, or they made the extra pass after that. It's basic basketball. Honestly, man, there's not too much more to say about that. We tried to do a good job on him, but he got off. He got loose a little bit on the first half."