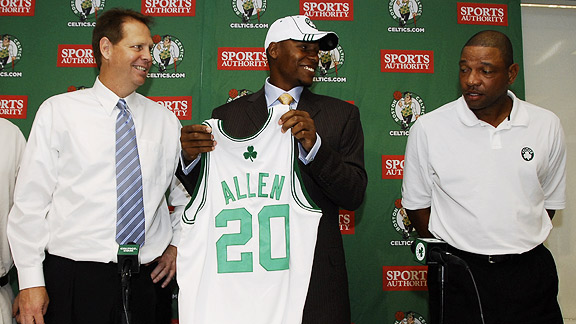 Brian Babineau/NBAE/Getty Images
Ray Allen is introduced to Boston media back in 2007.Around the same time the Celtics visited the Thunder in December, Portland's Greg Oden suffered a season-ending knee injury and we played the (somewhat obvious) "What if?" game while contemplating how history might have been altered had the Jeff Green-for-Ray Allen trade not set Boston in motion on a franchise altering path.
With the Celtics boasting a 16-4 mark at the time, we wrote:
And while bringing home Banner No. 17 (and with No. 18 a realistic goal this season), it's hard to believe things could have possibly worked out better -- especially given how awful most Celtics fans felt on the night of the draft lottery. But you can't help but wonder what could have been had those ping-pong balls bounced one way or another.

Could a staring lineup of Kendrick Perkins, Al Jefferson, Kevin Durant, Paul Pierce, and Rajon Rondo have positioned Boston for a brighter future? Who would have been the odd-man out if the Celtics had drafted Oden? What if the Celtics had simply settled for Yi Jianlian?
Given the hand-wringing that went on during the year about the aging Big Three, coupled with all the rumors swirling about trading Allen for a younger shooter, we couldn't help but run it through our minds again.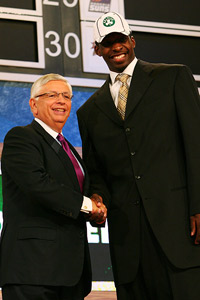 Jesse D. Garrabrant/NBAE/Getty
Jeff Green in a Celtics hat, for a fleeting moment. Would you sacrifice the world championship from the 2007-08 season if it meant going back in time and having those ping-pong balls fall in a way that brought Durant to Boston? Remember, it was pretty obvious the Celtics were going after Durant, who is averaging 29.6 points, 7.5 rebounds, and 2.7 assists per game this season.
Heck, even if the Celtics had ended up with Jeff Green, it's interesting to think how things might have evolved. Green is averaging is averaging 14.9 points and 6.1 rebounds per game this season.
The Celtics had a 19.9 percent chance at landing the top pick in the 2007 NBA Draft lottery -- which the Blazers ultimately used to select Oden. What's more, Boston had a 38.7 percent chance at a top 2 pick and a 55.8 percent chance at a top 3 pick. The worst possible outcome -- the No. 5 overall pick, which the Celtics ultimately ended up with -- had only a 12.3 percent possibility.