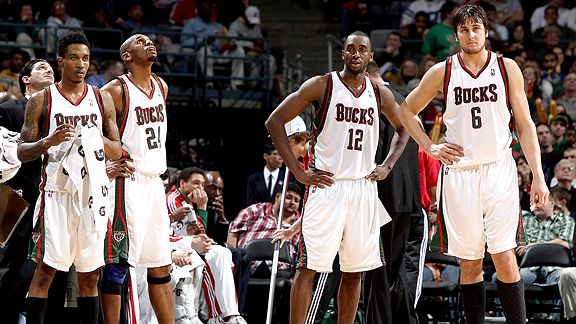 Gary Dineen/NBAE/Getty Images
Overlooked and forgotten players have helped build a playoff contender in Milwaukee this season.Among the prizes involved in netting the No. 3 seed in the Eastern Conference -- the one the Celtics and Hawks are jockeying for over the final nine games -- is the potential to avoid seeing the Milwaukee Bucks in the opening round of the playoffs (who the No. 4 seed currently projects to land). ESPN.com NBA writer Chris Sheridan tells us exactly why teams should Fear the Deer:
They have been surging unlike any other non-elite NBA team, and with 10 games remaining in the regular season they have a chance of maintaining that No. 5 seed and entering the playoffs as one of the few lower-seeded Eastern teams that might instill a little fear into whichever team they face in the postseason.

"There's a lot of excitement in this city because we're actually winning, and a lot of that has to do with our coach," Jennings said. "Since the first day of training camp he's said it's time for a change, and that's what we're trying to do."

After being a sub-.500 team from Dec. 6 through Feb. 22, Milwaukee's current string of 16 victories in 20 games has moved it from 24-28 to 40-32. The recent run has included victories over Cleveland, Boston, Denver, Utah, Atlanta and Charlotte, thrown Skiles into the coach of the year mix while doing the same for John Hammond in the debate over who should be named executive of the year.

Hammond was the mastermind behind the trade deadline-day deal in which Milwaukee acquired Salmons from Chicago (along with the right to swap first-round picks) in exchange for Joe Alexander and Hakim Warrick. Much like Dallas' acquisition of Caron Butler and Brendan Haywood, the Bucks have thrived in the six weeks since by having the luxury of an extra offensive-minded player, the same player who led Chicago's late-season surge a year ago when the Bulls got him from Sacramento and sprinted into the playoffs before falling to the Boston Celtics in one of the more memorable seven-game shootouts in NBA postseason history.

"John came in and gave us a lot of what we were missing since Michael Redd went down. We really didn't have that person we could go to who could score," Jennings said.
Click HERE to read the full story.
For more fun, check out Sheridan's diary on a night with "Squad 6," Milwaukee's now famous cheering section (below) that is making the Bradley Center a tough place to play.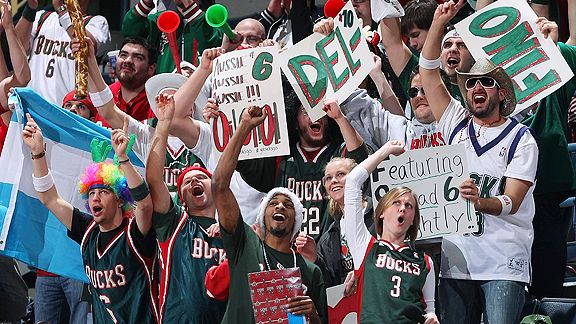 Gary Dineen/NBAE/Getty Images
After five straight losing seasons, the Bucks are finally giving their fans something to cheer about.