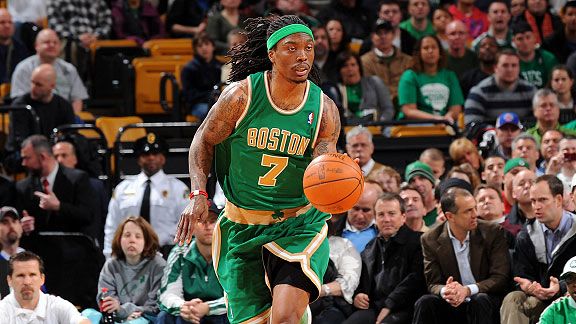 Brian Babineau/NBAE/Getty Images
The Celtics need Marquis Daniels to step up his play as the postseason nears.If Paul Pierce (right shoulder stinger) is unable to play Wednesday night against the Oklahoma City Thunder, the likely candidate to take his spot in the starting lineup is Marquis Daniels.
But the mere fact that Celtics coach Doc Rivers didn't immediately suggest Daniels as the potential replacement when asked Tuesday who would fill Pierce's shoes might illustrate better than anything else just how much Daniels has struggled lately.
In 16 appearances in March, Daniels is averaging a mere 3.9 points, 1.3 rebounds and 0.8 assists over 17.6 minutes of play. That's down considerably from a stellar February (9.4 points, 3 rebounds, 1.2 assists, 21.9 minutes) and even his injury-riddled season as a whole (5.8 points, 2 rebounds, 1.4 assists, 19.7 minutes).
What's more, Daniels is struggling to just get on the court in recent games. He logged a mere six minutes of action against both Denver and Sacramento, not checking in until the final two minutes of the third quarter against the Kings. Having scored a total of 14 points over his last six games, Daniels may have already been leapfrogged on the depth chart by Tony Allen, who had logged four DNPs during March before making the most of his recent uptick in playing time.
Rivers, who went so far as to call Daniels the most important player to get healthy as the Celtics battled the injury bug in February, isn't giving up on the versatile swingman, but he needs to see more from Daniels over the final nine games. And Rivers admitted it might actually be up to the team as a whole to get Daniels going again.
"I think we have to do a better job of getting him the ball in the post and activating hm," Rivers said after Tuesday's practice in which Daniels spent time with the first unit after Pierce's departure with a shoulder injury. "Sometimes a player needs to be activated to get them going, so maybe that [is what Daniels is lacking right now]. I'm reaching, but we do need him. We need him to be the best defensive player on our team at times and to be a better rebounder. We need him to come back with more energy."
Daniels showed those abilities after returning from surgery to repair torn ligaments in his left thumb, which sidelined him for 28 games. Upon his return in February, Daniels connected on 65 percent (37-of-57) of his field goal attempts in nine appearances that month.
But Daniels went ice cold in March, shooting a mere 32 percent (12-of-38) over the first eight games of this month. Just when he seemed to be emerging from the funk with back-to-back double-digit performances against the Pistons and Knicks, Daniels didn't score a single point over 33 minutes during a back-to-back on the road against Houston and Dallas. Soon after he put up another goose egg against Denver, and that led to the first-half benching versus Sacramento.
Rivers admitted Daniels' confidence could be eroding, particularly if he remains concerned about his thumb.
"When your hand is hurting and you come back, you're scared to do things," said Rivers. "He does still lose the ball with that hand, so confidence has to be a factor."
Boston's bench as a whole is striving for more consistency as the postseason nears. Daniels has been put in the unenviable spot of having his role altered with late-season additions of Nate Robinson and Michael Finley, but the Celtics desperately need him to bring a measure of consistency to an inconsistent bench.
"As a unit, it's like game to game whether they have a rhythm," admitted Rivers. "We have to figure it out. We worked a long time with them [Tuesday] on offense. We may have to do that more."