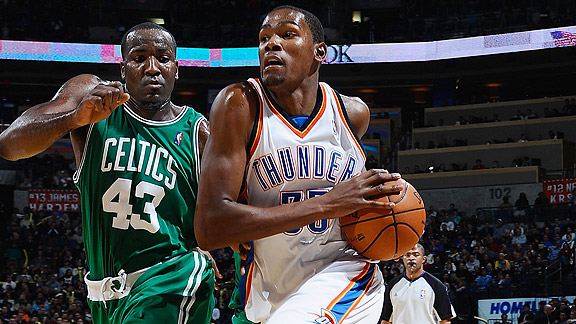 Larry W. Smith/NBAE/Getty Images
Kevin Durant is the primary reason for the confidence gushing out of Oklahoma CIty.WALTHAM, Mass. -- Call it a bit of advanced scouting, but Celtics center Kendrick Perkins was watching the Oklahoma City Thunder play on NBA TV recently and the one thing that stood out above all else came after the final buzzer.
"They interviewed Jeff Green after the game and he surprised me because he was like, 'We're a hard-working team, trying to win a championship,'" Perkins recalled after Tuesday's practice. "Well, no one picked Oklahoma City to even make the playoffs this year, but just the vibe in that locker room, to have one goal and that's to win a championship as a young team, I found that kind of crazy."
Crazy in a good way. After the ping-pong balls bounced against the Celtics following a 24-win campaign in the 2006-07 season, Boston nearly saw Perkins and Green united as teammates.
Instead, the Celtics traded Green -- the fifth overall pick that year -- to Seattle as part of a package that brought Ray Allen to Boston and set into motion the uniting of the Big Three. You know what happened from there.
It's unlikely the Celtics would have fancied themselves as championship contenders before the trades that brought Allen and Kevin Garnett to Boston. But, with help from those same ping-pong balls, Oklahoma City landed Kevin Durant and that gave the Thunder almost immediate hope at greatness.
"For young teams to have any type of success, historically, you have to figure out who the best player is," said Celtics coach Doc Rivers. "With a young team, when everybody is good, everyone is fighting to find out who is the man. There's no question who's the man in Oklahoma."
On a team that averages a mere 25 years of age, it's 21-year-old Durant that Rivers and his players were talking about most after Tuesday's practice.
The third-year forward is averaging 29.6 points, 7.5 rebounds, and 2.7 assists per game this season, while pacing the Thunder to a 45-28 record, which leaves them as the No. 6 seed in the Western Conference entering Wednesday's game.
Rivers fielded comparisons to Dirk Nowitzki and George Gervin, but noted, "he's a Durant -- there's [no comparison] -- he's the original."
Click HERE to read the full story.