BOSTON -- A collection of postgame news and notes after the Oklahoma City Thunder defeated the Boston Celtics Wednesday night at TD Garden:
The rundown (a quick look at postgame headlines)
* Green leaves the Celtics green with envy
* Doc's opinion: Tough one to swallow
* Loose balls: Free throw disparity, 'Sheed shines,
Green leaves the Celtics green with envy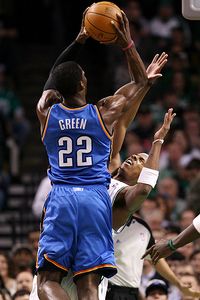 Elsa/Getty Images
Jeff Green made big shots against the team that drafted him.This was the sixth time Jeff Green had played against the team that drafted him with the fifth pick in the 2007 NBA draft, but it might have been the first time he left Celtics fans wondering what could have been.
Green, who had generated just two 3-pointers against Boston over the first 145 minutes he played against the Celtics over five games, coolly drained two clutch trifectas in the final two minutes of play Wednesday night to lift Oklahoma City to a 109-104 triumph at TD Garden.
Green finished with 17 points on 7-of-14 shooting with a trio of 3-pointers, four rebounds, two blocks and an assist over 39 minutes.
During the summer of 2007, the Celtics traded Green along with Wally Szczerbiak, Delonte West and a 2008 second-round draft pick (Trent Plaisted) to the Seattle Supersonics for Ray Allen and Glen Davis. The trade was rarely scrutinized in these parts after Allen helped Boston raise Banner 17 after the 2007-08 season, but as the Big Three age, it's easy to look at Green's development, particularly as he helps morph Oklahoma City into one of the most entertaining teams in the league.
"It's just me staying with my rhythm," Green said of his two crucial 3-pointers, both of which turned a tenuous one-point lead into a two-possession advantage. "Thabo [Sefolosha] and Russ [Westbrook] did a great job of finding me. Nenad [Krstic] set some great screens on [Kevin Garnett] when I was coming off. So it was a great part of my team."
Green, who sometimes plays the part of Garnett for the Thunder, including blocking shots after the whistle, made KG and the Celtics pay for giving him space Wednesday.
"Until those two threes, I don't think he was even that much of a factor, to be honest," said Garnett. "We were helping off of him, and he hit two big threes."
Green and his teammates reveled in the milestone victory against a championship-caliber opponent.
"It's a big one for us," said Green, whose team is only one game worse than Boston at 46-28. "We won against a great team, five or six All-Stars on it. It was a great one for us, especially with what we're fighting for."
Doc's opinion: Tough one to swallow
For Celtics coach Doc Rivers it was a no-brainer when asked whether it's tougher to endure a 20-point thrashing like the one Boston received from San Antonio Sunday, or the heartbreaker Wednesday night against Oklahoma City. It's clearly the latter.
"It's a human game," said Rivers. "Sometimes you're just going to play poorly. It happens. You're disappointed both ways, but it's tougher for you when you know you were in the game and you had it, and you still lost it. That's a tough one. That doesn't happen very often -- when we play well we usually win."
Despite the recent stumbles at home -- and a grander pattern of struggles against quality competition at TD Garden -- Rivers remains optimistic about his squad. And he doesn't particularly care if anyone else is on board the bandwagon.
"You don't have to be -- I am," said Rivers. "I don't care what you guys are. I really don't. I look at our team and you know, we played one bad night. We were playing great up until two games ago. Were you optimists three games ago? Either you're on the bandwagon or you're off. I tell guys that all the time. That's the way I think. And that's how our team should think. I'm not going to spend time trying to convince you to dislike us or like us. That's up to you guys. Our team has to just keep working. We can't stay in the past."
Loose balls: Free-throw disparity, 'Sheed shines,
* Oklahoma City's Kevin Durant ended up at the charity stripe 15 times Wednesday, which wasn't exactly shocking by itself, but put in the context of the game, it left some like Kevin Garnett shaking their heads. "I thought we were playing Michael [expletive] Jordan tonight the way he was getting the whistle," Garnett vented. "Durant damn near shot more free throws than our whole team."
To be clear, the Celtics did not pin all the blame on Wednesday's loss to the upstart Thunder on the referees. Those zebras weren't the ones who were late closing out on Green as he drilled a pair of ice-water-in-his-veins 3-pointers in the final two minutes to help Oklahoma City emerge with another monumental win this season.
But on a night Boston shot 59.5 percent from the floor, generating a staggering 44 field goals against a top 10 scoring defense, a 34-17 free-throw attempt disparity between the teams stood out like a sore thumb on the final box score.
The Celtics connected on 13 of their 17 attempts (76.5 percent), while Oklahoma City made 28 of 34 (82.4 percent). So try as they might, after a frustrating loss in which the Green played exceptionally well at times, they simply couldn't get over that number.
"I don't know, [refereeing is] not my call," said captain Paul Pierce. "I'm just a player out there playing. The referees, they make the call. It is what it is. I can't control that part of the game, I just have to control what I do as a player and as a team."
Click HERE to read more about the Celtics' take on the referees.
* Rasheed Wallace shrugged off some recent struggles to pour in a team-high 18 points on 7-of-8 shooting Wednesday. Wallace registered only his second multi-3-pointer game since Jan. 28. On the flip side, Wallace logged only one rebound (not that there was many to be had) and a minus-8 overall in the plus/minus statistic.
Wallace also struggled to help contain Durant at times.
"It's a team job to help out, period," said Wallace. "No matter whether it's him or any other type of NBA All-Star, it's a team effort to help out. It was a [pain], honestly. Helping Paul [Pierce] and Ray [Allen] out, it's just a team thing. Gotta stay with him."
* Both Pierce and Perkins indicated after the game that they felt fine returning to action. Pierce (right shoulder stinger) registered 15 points on 5-of-10 shooting with six rebounds, six assists, two steals, and a block. Perkins (left knee tendinitis) missed two games trying to rest his knee, but logged six points and four rebounds over 22 minutes.