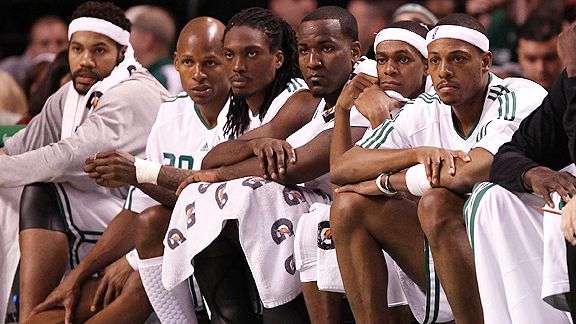 Elsa/Getty Images
The Celtics haven't made much of a statement with their regular-season woes against quality foes.The Celtics' struggles against elite competition this season are well documented. Boston is 5-14 against teams currently projected to be among the top four seeds in each conference, including a mere 2-9 against Eastern Conference powers Cleveland, Orlando and Atlanta (and 0-8 vs. those teams since Christmas).
So with eight games remaining in the 2009-10 regular season, Celtics coach Doc Rivers was asked Thursday if Boston needed a statement victory over the final two weeks to rebuild confidence further eroded by this week's home losses to San Antonio and Oklahoma City.
"No, because if we get it, what does it mean?" Rivers asked in return. "Really, I've said it all year: We won a couple big games this year, what has it got us? We won the first game of the year against Cleveland. I don't know, what statement did it make? I think it's good for writers, honestly, it's good for, 'Boy, that was a statement game, that meant a lot.'
"The team going home, Cleveland, it doesn't mean [anything] to them. For the team that wins, it's great for a day or two, but after that, you've still got to go play. Say we beat Cleveland [on Sunday] and we play Miami in the first round [of the playoffs]. Do you think Dwyane Wade gives a [hoot] that we beat Cleveland? It doesn't matter. It's good for you -- every win is good for you and always helps your psyche. If we beat Houston, Cleveland and whoever is after that, it's good, it helps the psyche, but I don't think it does anything for other teams. They could care less."
While the Celtics scored a quality win in Dallas during a three-game road trip in the middle of March, it's hard to identify many quality wins recently, particularly at TD Garden. Even a triumph over Denver came with an asterisk; the Nuggets have played very poorly on the road this season and were without their coach, George Karl. You'd have to go back to a November win over the Jazz to find a real quality triumph at home for Boston.
The Celtics host Cleveland and Milwaukee as part of their final four home games this season. If nothing else, Rivers hopes his team revels in a playoff-like atmosphere, like the one that enveloped TD Garden with the upstart Thunder in town Wednesday.
"In an 82-game season, when you can get excited about some games, that's great," said Rivers. "I remember last year's game -- Christmas Day -- I've never seen two teams more jacked up in the regular season than for our Lakers game. You could feel it in the locker room. It was like June, the way guys were walking around. That's nice. I wish we had 50 of those games."