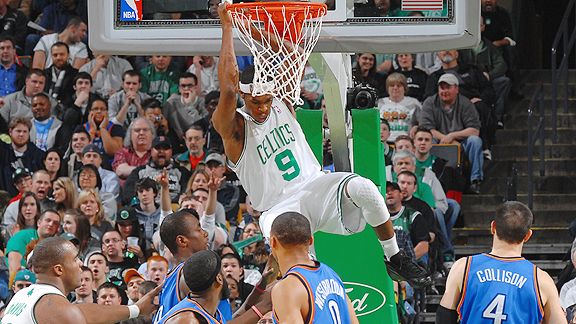 Brian Babineau/NBAE/Getty Images
Rajon Rondo is etching his name throughout the Celtics' record book this season.For the second consecutive Friday, Boston Celtics point guard Rajon Rondo is set to etch his name in Celtics lore as he prepares to pass (pun fully intended) Hall of Famer Bob Cousy and establish a new franchise single-season record for assists.
With Rondo's first assist tonight against the Houston Rockets, he'll tie Cousy's record of 715 set 50 years ago during the 1959-60 season. Sherman Douglas made a charge at the mark in 1993-94, dishing out 683 dimes over 78 games, but the record is finally set to topple on its golden anniversary.
Celtics coach Doc Rivers admits he's not typically wowed by numbers, but the mere fact it's taken this long for the record to fall speaks volumes.
"If Cousy had it that long, it's pretty damn impressive," Rivers said after Thursday's practice. "I'm so not impressed with numbers, if you want me to be honest, but obviously it's been a record that stood a long time, so there has to be some good in there."
Rondo handed out 659 assists last season, finishing fifth in the NBA. In a season in which he made his first All-Star appearance, Rondo currently sits third in assists this season behind only Phoenix's Steve Nash (824) and Utah's Deron Williams (742).
Rivers has seen improvement not only this year, but this month.
"Rondo's been terrific," Rivers said. "I think he's even been a better distributor the last month since Paul [Pierce] and [Kevin Garnett] have bounced back and gotten their rhythm. He really understands when to have the ball in his hands and when to move the ball. His understanding of that is light years from where it was last year."
Click HERE to read the full story.