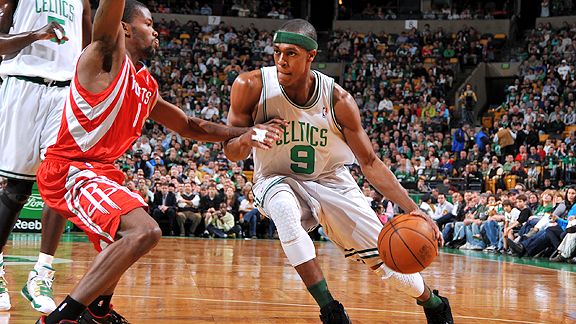 Brian Babineau/NBAE/Getty Images
Rajon Rondo's record night couldn't help the Celtics.BOSTON -- Instant reaction after the Houston Rockets posted a 119-114 overtime triumph over the Boston Celtics Friday night at TD Garden:
How the game was won:The injury-depleted Rockets scored the game's final 10 points to erase a five-point overtime deficit and emerge with a rather improbable victory. Luis Scola generated two monster overtime buckets while registering 27 points and 11 rebounds, while Aaron Brooks scored a game-high 30 points for the Rockets. Paul Pierce led six Celtics players in double figures with 27 points on 9-of-14 shooting, but missed a potential winner at the end of regulation.
Turning point I: Scola's jumper put the Rockets out front, 91-87, with 9:44 to play. With a lineup featuring Rajon Rondo (23 points, 10 assists) and reserves Shelden Williams, Tony Allen, Michael Finley and Rasheed Wallace, Boston embarked on an 11-0 run to open a seemingly safe 98-91 advantage with 5:50 to play, but ...
Turning point II: Kyle Lowry's circus layup with 75 seconds to go in regulation knotted the game at 104. Kevin Garnett, Rondo and Allen combined for a quartet of free throws (one from Rondo coming after he was fouled hustling for a loose rebound with 46.5 seconds to play in a one-possession game and one from Allen coming after he picked Scola's pocket with 30 seconds to play). But the missed freebies would come back to bite Boston when ...
Turning point III: Brooks' 3-pointer with 9 seconds remaining knotted the game at 109 and ultimately forced overtime when Pierce missed a potential winner at the buzzer (an awkward fallway off an isolation play). Still, Boston scored the first five points of the extra session, but ...
Turning point IV: Scola generated a gritty putback and buried a 19-foot jumper to put Houston out front 117-114 with 51.8 seconds to play as the Rockets emerged with the win.
Stat of the game: After their moaning about the officiating Wednesday night against Oklahoma City, the Celtics went to the line 37 times Friday and connected on only 24 (64.9 percent). The Rockets connected on 25-of-28 attempts (89.3 percent).
Unsung hero: With Ray Allen in foul trouble throughout the night and Marquis Daniels still ineffective off the bench, Tony Allen got dusted off and responded with a monster performance. The Quiet Assassin -- as he dubbed himself after a strong effort last month against Denver -- finished with 12 points on 4-of-8 shooting over 27 minutes.
What it means: Losers of three straight, this one was about as low as it gets for Boston. The Celtics could justify recent losses to San Antonio and Oklahoma City, but there's no explanation for dropping one to an injury-ravaged Houston squad at home. Not a good way to lead into Sunday's showdown with the Cavaliers.