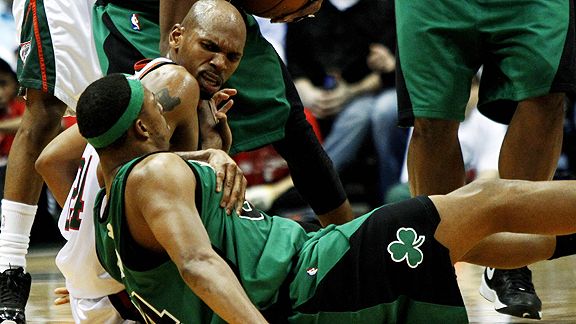 AP Photo/Darren Hauck
Tempers flared in the fourth quarter, including when Jerry Stackhouse and Paul Pierce got tangled.MILWAUKEE -- As if trying to make the fight fair after the season-ending injury to Milwaukee's Andrew Bogut earlier this month, the Celtics sat Kevin Garnett for Saturday's potential playoff preview against the Bucks, even as both teams jockey for position in the Eastern Conference.
And even without their chief trash-talking antagonizer, Boston still played with the type of swagger and bravado they gushed in 2007-08, this time emerging with a 105-90 triumph in which the upperclassmen of NBA High School sent a message to the upstart freshmen about who exactly the playoffs go through.
When tempers flared late in the fourth quarter, everyone on the playground seemed destined for detention, even as referees tried to separate the parties.
The two teams will see each other again in class in both team's regular-season finale Wednesday night in Boston, but they've already made plans to settle this once and for all behind the schoolyard in a week's time when the playoffs commence.
"Boston is like big bullies from school," barked the most under of classmen, rookie Brandon Jennings. "A lot of teams don't like that."
Were the Celtics sending a message with their physical and chatter-filled play, particularly as things jumped up a notch after Boston started to pull away in the final frame?
"I guess you could say that," said Celtics captain Paul Pierce, who scored 18 of his game-high 24 points in the second half. "A couple technical here, a couple technical there. I don't know. Maybe we are setting up something for week and a half.
Click HERE to read the full story.