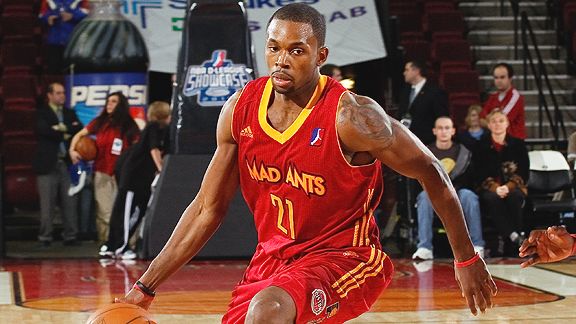 Otto Kitsinger/NBAE/Getty Images
Oliver Lafayette averaged 17.1 points for the Fort Wayne Mad Ants this season.Paul Pierce might not have the luxury of utilizing a vacant stall next to his own locker much longer.
Coming hot on the heels of news that former UMass standout Tony Gaffney has signed with the Boston Celtics, the team is expected to also add NBA Development League standout Oliver Lafayette Tuesday. Barring the unforeseen, both signings will be finalized and announced this afternoon.
Lafayette, a 6-foot-2 guard out of the University of Houston, averaging 17.1 points, 6.5 assists, and 4.8 rebounds per game in 48 appearances with the Fort Wayne Mad Ants this season.
News of Lafayette's signing was first noted by the always helpful D-League Daily.
Lafayette is the second Mad Ant to get an NBA call-up in recent days and he might actually see a familiar face if he joins the team Tuesday in Chicago. Last week, the Bulls signed forward Rob Kurz.
The addition of Gaffney and Lafayette pushes Boston's roster back to the max of 15 players. The team dipped as low as 13 after waiving rookie Marcus Landry earlier this month. The influx of bodies is likely to aid the team in practice situations, particularly as Boston gears up for the postseason.
Both Gaffney and Lafayette would boast playoff eligibility if the Celtics included them on their 12-man playoff roster -- an unlikely scenario barring injuries. The playoff roster must be turned in the day after the regular season ends.