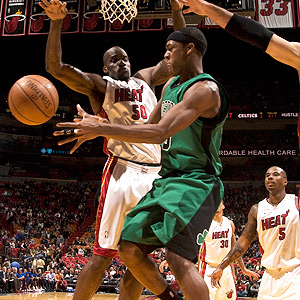 Issac Baldizon/NBAE/Getty Images
Battling the flu, Rajon Rondo participated in Saturday's shootaround before Game 1.Celtics point guard Rajon Rondo, who missed the active part of Friday's practice while battling flu-like symptoms, joined his teammates on the court for Saturday's morning shootaround before Game 1 against the Miami Heat, according to vice president of media relations Jeff Twiss.
Celtics coach Doc Rivers said Friday that Rondo would play Saturday and the point guard's presence at the shootaorund is an encouraging sign that there were no setbacks overnight. Rondo's energy level and how many minutes he'll be able to log are likely to be dictated by his condition at game time.
Rivers indicated that Rondo was "throwing up and everything else" Friday and the team sent him home from the session after he attended film study and a walkthrough. The flu has been spreading recently in the Celtics' locker room, starting with Tony Allen, who missed the final two games of the regular season, and continuing with Rondo and Glen Davis.
Allen practiced with the first team in Rondo's absence Friday and would be the likely starter if Rondo could not go. Allen deemed himself in better shape than previous days, and said he'd be ready for action Saturday.
"I'm readying myself to play as much as possible," said Allen. "This is the playoffs, anything can happen."
(Update: Rondo talked with the Boston Globe's Julian Benbow after this morning's shootaround and confirmed he's playing. "[My energy's] going to be different from tonight," said Rondo. "I still can't hardly breath much. But it'll be alright. I haven't vomited lately.")