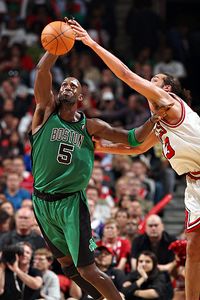 Gary Dineen/Getty Images
Joakim Noah called Kevin Garnett a "dirty player."In the wake of the Celtics-Heat dust-up in Saturday's Game 1 of their Eastern Conference first-round series, Chicago's Joakim Noah sounded off on Kevin Garnett Sunday, calling him a "dirty player" and complaining that, "he's always swinging elbows."
When those comments got back to Boston, Celtics coach Doc Rivers could only laugh.
"Noah? Noah's in this series now?" Rivers jokingly asked. "I have no comment. If Noah had said that last year [when the Bulls and Celtics met in the postseason], I would have had a comment, but since he's in Clevleand and dealing with that, I think I'll let him focus on [Shaquille O'Neal] and that group right now."
Here's what Noah said Sunday, from the Chicago Tribune's K.C. Johnson:
As the league ponders whether to suspend Celtics forward Kevin Garnett for hitting Heat swingman Quentin Richardson in the face with an elbow, Bulls center Joakim Noah offered his opinion about Garnett.

"I'm going to say it: He's a dirty player," Noah said following Bulls practice Sunday.

Asked if he felt Garnett should be suspended, Noah went even stronger with his criticism.

"I don't make the decisions," Noah said. "But he's always swinging elbows man. I'm hurting right now because of an elbow he threw. It's unbelievable. He's a dirty player. It's one thing to be competitive and compete. But don't be a dirty player man. He's a dirty player.
The Celtics and Garnett are still awaiting word if he'll be punished for his part in Saturday's scuffle.