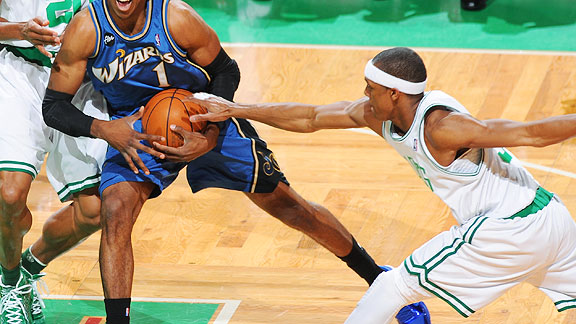 Brian Babineau/NBAE/Getty Images
Rajon Rondo led the NBA in steals.Boston Celtics point guard Rajon Rondo finished fourth in the 2009-10 Defensive Player of the Year balloting unveiled Tuesday.
Rondo garnered 55 points while finishing behind Orlando's Dwight Howard (576 points), Atlanta's Josh Smith (136), Charlotte's Gerald Wallace (113), and Cleveland's LeBron James (61).
Rondo, who led the NBA in steals per game, placed on 25 of 122 ballots cast by sportswriters and broadcasters across the league and earned 1 first-place vote, 13 second-place votes, and 11 third-place votes.
Celtics center Kendrick Perkins earned a single third-place vote, helping him finish among a pack eight that brought up the rear of the results list.
Howard repeated as Defensive Player of the Year. Earlier this season, Howard actually ranked Perkins ahead of him when asked to craft a top 5 defensive players of the year candidate list for ESPN.com's Awards Watch.
Kevin Garnett won the award during Boston's championship season in 2008 and is the only Celtic to take home the honor since it started in 1983.