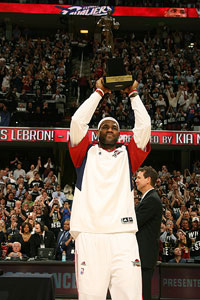 Nathaniel S. Butler/NBAE/Getty
LeBron James with the MVP trophy last year.CLEVELAND -- Before Saturday's Game 1 against the Celtics, Cleveland's LeBron James was asked what it means to him to win a second straight MVP award, which he'll be presented with Sunday afternoon in a ceremony on the campus of the University of Akron.
"It's another humbling experience for myself," said James. "It's real hard to grasp, honestly. You put in a lot of hard work as an individual, then you get an opportunity to showcase your talent on the floor every night and to do it with the teammates you love in the city you love. It's great. To be in the class of individuals -- the guys that won it back-to-back, or just won the MVP, period -- for me to be in those books is great."
If it's like last year, James will also receive the MVP trophy from NBA commissioner David Stern before Monday's Game 2. Last year he gave a speech to an energized crowd before tip-off. But the Celtics aren't worried about that giving James and Co. a spark, even with Cleveland already taking the early series lead.
"I hope it's a distraction for them," Celtics coach Doc Rivers said at Friday's practice. "It won't be a distraction for us, none of us are getting it. Hopefully he doesn't give a long speech and we can go play basketball."