WALTHAM, Mass. -- Celtics coach Doc Rivers admitted a $25,000 fine was no laughing matter, but did have some fun with the fact that president of basketball operations Danny Ainge got tagged with that bill for his towel-tossing actions in Boston's Game 2 win in Cleveland.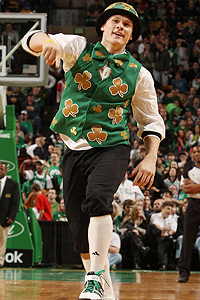 Elsa/Getty Images
Could Danny Ainge have avoided trouble in this outfit?"That's a lot of towels," Rivers said of the $25,000 price tag. "Those are Grade-A towels that Danny bought. I'm surprised actually by the fine, though I know a lot of people are not, because he's just an employee. I mean, what's the difference -- mascots do it all the time?"
Asked if he was comparing Ainge to Lucky the Leprechaun, Rivers laughed and ran with it.
"I was wondering if he had worn Lucky's outfit, would he have gotten away with it," joked Rivers. "I was surprised."
Rivers admitted he couldn't help but laugh when he initially saw the replay of the incident, which featured Ainge tossing a white towel skyward attempting to distract Cleveland's J.J. Hickson as he shot the second of two free throws late in the third quarter with Boston on top by 23.
"I laughed because I know Danny," said Rivers. "Danny is as competitive as I've ever met in my life. They're making a run and you can see him getting into the game and he couldn't do anything about it. He felt like me when I'm sitting there on the sideline sometimes. It was just really funny to me.
"[The] $25,000 [fine], that's not funny. I guarantee you that. The joke's over now."