As the Boston Celtics and Cleveland Cavaliers prepare to tip off in Friday's Game 3 of an Eastern Conference semifinal series at the TD Garden, here's five key areas to watch, including: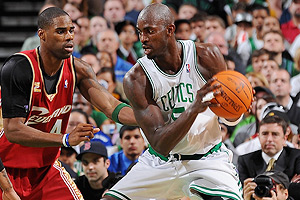 Brian Babineau/NBAE/Getty Images
The Celtics will do everything to exploit this matchup when Antawn Jamison is guarding Kevin Garnett.
1. Celtics injuries: The importance of Kendrick Perkins (knee strain) and Kevin Garnett (midfoot strain) in this series cannot be understated. Offensively, the Celtics are hellbent on establishing Garnett in the post, identifying a favorable matchup with him against Antawn Jamison (more on that later). Defensively, Perkins is bullying Shaquille O'Neal away from the basket as the Cavaliers desperately attempt to establish Shaq in the post.

2. Cavaliers injuries: Before this series, the only elbow that mattered between the Celtics and Cavaliers was the one Ray Allen jabbed into Anderson Varejao's groin last April (earning a suspension in the process for the typically mild-mannered Allen). Now, it seems like we can't go an hour without a new report on LeBron James and his ailing elbow. But Anderson Varejao's balky back might be more troublesome for Cleveland.

3. KG digging in on the post: Since arriving in Boston in 2007, Garnett has attempted 20-or-more shots in just 16 games between both regular-season and postseason play. What's more, he's never hoisted more than 23 shots in a game. During Monday's Game 2, even after suffering the midfoot injury late in the second quarter when Perkins stepped on his foot, Garnett put up 21 shots. Doc Rivers said he'd like to see him take 25.

4. C's must avoid foul troubles: Rivers has tensed up a bit whenever the subject of fouls has come up this week. He doesn't need to be reminded of the numbers, including how Boston has committed 56 fouls compared to Cleveland's 33 through two games. As the series shifts to Boston, the urban legend that the home team gets more calls will be severely tested. Rivers can't say anything about the officials in fear of the $35,000 bills being FedEx'd like mad from league headquarters, but he knows there's one way to change those numbers. "We have to be more aggressive, offensively," said Rivers.

5. Protect home court: This one's simple: The Celtics were a pathetic 24-17 at the TD Garden during the regular season this year. They absolutely have to be better in the postseason or they have no chance of going far. On the more positive side, Boston is 3-0 at the Garden so far this postseason, displaying the type of suffocating defense that was their hallmark there in 2008.
Click HERE to read the full story.