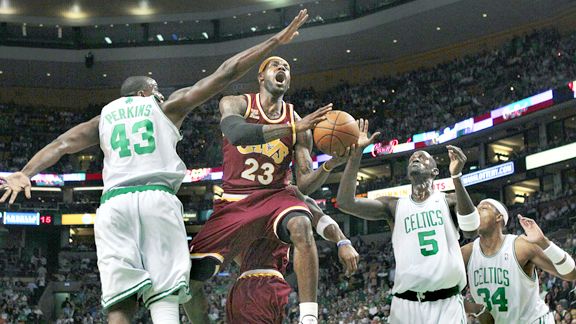 AP Photo/Elise Amendola
Elbow injury? What elbow injury?BOSTON -- Instant reaction after the Cleveland Cavaliers posted a 124-95 triumph over the Boston Celtics in Game 3 of an Eastern Conference semifinal series at the TD Garden:
How the game was won: LeBron James scored a game-high 38 points on 14-of-22 shooting with 8 rebounds and 7 assists over 37 minutes, while doing much of his damage in the first quarter as Cleveland raced away early. Antawn Jamison chipped in 20 points and 12 rebounds, while Shaquille O'Neal added 12 points and 9 rebounds for the Cavaliers. Kevin Garnett (19 points on 8-of-11 shooting) and Rajon Rondo (18 points, 8 assists) paced the Celtics.
Turning point: James -- his elbow clearly a non-issue -- didn't need his fuse lit on this night, but he certainly took some frustration out against Boston after Kendrick Perkins was tagged with a flagrant 1 for a fastbreak foul in the first quarter. James proceeded to score the game's next eight points, turning a two-point lead into a double-digit advantage. The lead never returned to single digits -- not even close. James outscored the Celtics by himself, 21-17, in the first quarter and the Cavaliers led by 19 after the frame.
Stat of the game: The Celtics boasted a mere nine first-half rebounds (four of which were offensive). Part of that was due to the red-hot shooting of the Cavs, who connected on 24 of 39 shots (61.5 percent) and hauled in seven offensive boards. Boston finished with a mere 30 rebounds, one more than its regular-season low.
Unsung hero: Anthony Parker connected on all four shots he took, including a trio of 3-pointers, for 11 points and a plus-21 in the plus/minus category. He also pressured Rajon Rondo defensively early and, at the very least, kept him quieter than Games 1 and 2.
What it means: The Celtics must scrape themselves up off the ground after getting streamrolled in Game 3. Despite the lopsided final, the Green must immediately put this one behind them and focus on the possibility of evening up the series Sunday. But that's probably easier said than done given that they depart with bruised egos and stolen confidence.