BOSTON -- A collection of postgame notes after the Cleveland Cavaliers defeated the Boston Celtics Friday night in Game 3 of an Eastern Conference semifinal series at the TD Garden:
The rundown (a quick look at postgame headlines)
* Cavs' hot shooting stifles Rondo
* C's lament lack of aggressiveness in drawing fouls
* Loose balls: Elbow talk; Cavs stay calm
Cavs' hot shooting stifles Rondo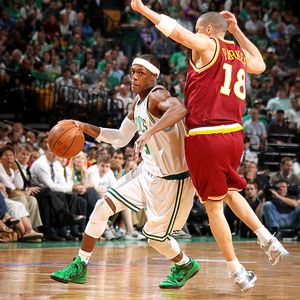 Nathaniel S. Butler/NBAE via Getty Images
Anthony Parker helped slow Rajon Rondo.When a player puts up 18 points and 8 assists, it's hard to say the opposing team shut him down. But considering the way Celtics point guard Rajon Rondo devoured the Cavaliers in the first two games of this series, Cleveland was overjoyed with the job it did against Boston's spark plug.
The Cavaliers employed Anthony Parker, who -- deservedly or not -- earned much of the praise for slowing Rondo in the second half of Game 1, to pressure Rondo off the inbound and it at least slowed down Boston's speed point guard a bit.
"Obviously, he was kind of picking us apart offensively, and it was something that [Parker] suggested," said Cavaliers coach Mike Brown. "He said, 'I am going to pick him up, work the ball some and see what happens.' I said, 'Great.'"
Rondo finished 9-of-17 shooting, but, unlike Game 2 where he tied a playoff record with 19 assists, he wasn't able to generate easy points for teammates -- or himself -- like he had in previous games.
"I thought we did a good job making him shoot jump shots tonight," said Antawn Jamison. "We know he's not comfortable and he wants to get in the lane and make plays. I thought we did a good job on pressuring him. We made it uncomfortable for him tonight."
Celtics coach Doc Rivers noted that Cleveland shot nearly 60 percent overall and that helped put the brakes on Rondo as well.
"It's tough to run when you're taking the ball out of bounds every single time," said Rivers. "When you think about that they shot 62 percent in the first half and they still had more offensive rebounds than us, that's just bad numbers for us. So we'll live with the Anthony Parker-on-Rondo matchup like we did in Game 2 and we were fine with that. Offensively, we didn't have a lot of movement. There's no doubt about that. We didn't go to Kevin [Garnett] enough. And we've got to make a concerted effort to continue to go to Kevin. And we didn't do that. But defensively we were horrible."
C's lament lack of aggressiveness in drawing fouls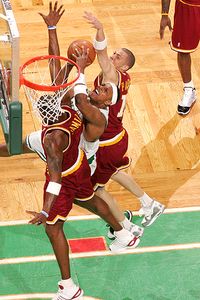 Nathaniel S. Butler/NBAE via Getty
Paul Pierce battles his way to the rim.The three-man officiating crew of Bennett Salvatore, Ken Mauer, and Zach Zarba were peppered with so many boos and insults as they left the court both at halftime and postgame, that you would hardly know that Cleveland actually finished with more fouls overall (24) than Boston (22).
But the crowd certainly let the officials know how they felt after Boston got whistled for the lion's share of infractions over the first half of play, aiding the can't-miss Cavs ever-so slightly in building an insurmountable advantage.
Neither Celtics captain Paul Pierce nor Rivers was taking the bait on the foul discrepancy.
"We fouled, they didn't," said Pierce. "Simple as that. They were aggressive, we weren't. That's usually what happens when a team's attacking and drawing contact, they're gonna get to the line. The other team, when they're not getting to the line, they're not as aggressive. So, like I said, they had us on our heels and we gotta do a better job at the beginning. Getting better offensively but also about being better defensively. Where we don't send them to the line, where we move our feet, [and] where we get to the shooters and close off the gaps."
Added Rivers: "No, I'll let you guys talk about the fouls. I think we are attacking as well, but I think I'm going to have to start sending more video in, like they are. Maybe that works."
Leave it to Kendrick Perkins to bottom line the situation.
"They attack," he said. "We shot jumpers."
Loose balls: Elbow talk; Cavs stay calm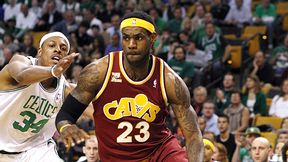 Greg M. Cooper-US PRESSWIRE
LeBron James' elbow looked fine.* Celtics coach Doc Rivers is ready to end the elbow watch on LeBron James.
"I think he's healthy," said Rivers. "That's how I'm going to characterize it. His elbow looked very good tonight, and so, enough with the elbow injury, alright? I think he's healthy now, and now we can go ahead and everybody can just focus on basketball. He looked awful good. I mean, he was great. You knew it, though. You knew it coming into the game. We told our guys, you knew he was going to grab the ball and he was going to attack all game, especially early, to get his guys involved. And he did it, but I didn't think we gave any resistance, you know? He was playing HORSE."
* Brown looked far more relaxed than he did after Monday's Game 2 loss in Cleveland.
"I thought tonight we were aggressive on both ends of the floor for 48 minutes," he said. "We talked about playing a 48-minute game and I thought our guys did that tonight. It was great to see LeBron set the tone from the jump ball and everybody else followed. We had great performances from a lot of guys that led to a very good ball game for us. I thought winning the possession game with the rebounds was huge and I thought that having a lot of guys have the opportunity to contribute offensively with the way we moved the ball and moved bodies was huge. It's a short turnaround, we know it's a long series, so we've got to come out and play just like we did today in Game 4."
* Unlike his coach, James said he kept his cool after Game 2 because he knew he'd have the opportunity to turn it around then.
"I remember you guys talking about Mike coming in real angry, but if you remember me I was real calm," said James. "There was no reason for me, as a leader, to be very angry or feel like it was pressure time for us. I understood we played awful in Game 2 and I came in to that press conference and you guys were like, 'Why do you seem so calm and Mike seems so [upset]?' It's just I knew how important the next game was."