BOSTON -- Here's what the Boston Celtics have to look forward to on Saturday: Reliving the entire 2-hour and 33-minute nightmare that was Friday's Game 3 loss to the Cleveland Cavaliers all over again on video.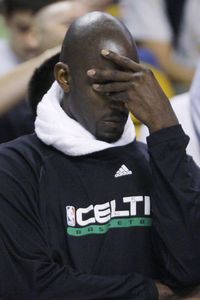 AP Photo/Charles Krupa
KG and the Celtics have a lot to reflect on after Friday night's stinker at the Garden.Cruel and unusual punishment? Probably. Scarier than the latest edition of "Nightmare on Elm St.?" Most definitely.
But the way Doc Rivers sees it, the Celtics can't just forget what happened and move on.
"You don't throw it out because, defensively, I don't think there's a lot of changing we have to do, but we do have to do it harder, better," said Rivers. "We have to do it and be on the same page. So, video-wise, they need to see it. They need to see how they moved and how we moved. And then if there are adjustments, we can make them."
Adjustments almost certainly have to made, particularly after a Boston team that prides itself on defense gave up 124 points on its home court in a swing game of a best-of-seven series. Boston is staring at a 2-1 hole and, if adjustments aren't made, they won't be watching film much longer.
How bad was the Celtics' defense? Simply put: The Celtics gave up 153 points combined in victories in Game 1 and 2 of their first-round series against the Heat. If LeBron James (38 points) played all 48 minutes Friday night, the Cavaliers might have matched that number.
It was so bad that the 29-point margin represented the worst home playoff loss in Celtics history.
Click HERE to read the full story.