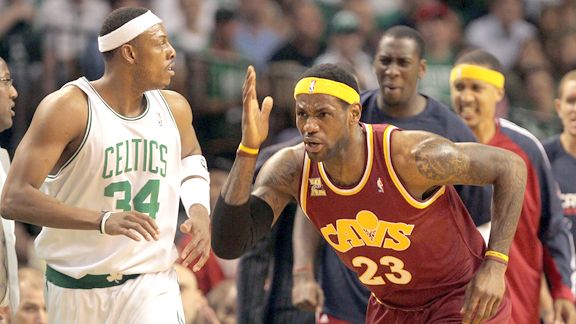 Jim Rogash/Getty Images
LeBron James' hand was beyond hot, evidenced by his 21 first-quarter points in Game 3.BOSTON -- A look at two of our ESPN.com stories following Cleveland's Game 3 triumph over Boston, noting the difference in play between Celtics captain Paul Pierce and Cavaliers superstar LeBron James:
May: Pierce isn't rising to challenge
It's hard to point fingers after you've suffered the worst home playoff loss in the history of the franchise. This was an Enronian collapse by the Celtics with plenty of blame to go around.

So let's start at the top. What has happened to Paul Pierce in this series?

Is the Celtics' captain simply spooked by the prospect of having to defend and go against the league's two-time MVP again and again? Guarding LeBron James, first-team All-NBA, and being guarded by LeBron James, first-team All-Defense, makes for harrowing, even hazardous duty. But this hasn't been a matchup. It's been a walkover.

No one expects Pierce to match LeBron basket for basket or to smother him defensively. But what was a pretty good matchup two years ago -- remember the epic Game 7 Pierce delivered -- has turned into a one-man show. James had outscored the entire Celtics team by the time Pierce made his first exit with 3:15 left in the first quarter, having missed all five of his shots. It was a trend that would continue throughout, ending only when the final horn sounded and the Cavaliers had a stunning 124-95 victory and a 2-1 lead in the series.
Click HERE to read the full story.
Broussard: LeBron unleashes the full fury
It ticked him off. All of it.

The questions about his toughness when it was falsely reported that he might need three MRIs for his strained right elbow. The disregard for his team's splendid 61-win regular season, after one bad loss. The idea that The King was buckling under pressure, overemphasizing his injury to create a convenient excuse for potential failure.

Well, now we know what LeBron James -- the media-friendly, quick-to-laugh, nice-guy superstar -- plays like when he's mad.

He blocks shots with such abandon that it leaves a 6-foot-9-inch, 290-pound former football player sprawled out on the floor.

He pours in points in every conceivable way, outscoring a team full of future Hall of Famers by himself.

He makes a Big Three, Gigantic Four, or whatever cute nickname folks give his opponents, look infinitesimal, smaller than the lion's face on his signature sneakers.

In a mammoth performance that put every naysayer, hater and Boston Celtic to shame, James put the Cleveland Cavaliers back in control of their postseason, leading them to a historically lopsided 124-95 victory and a 2-1 advantage in this Eastern Conference semifinal series. The margin, which Boston's Paul Pierce called "embarrassing,'' was the largest ever in a home playoff loss by the Celtics.
Click HERE to read the full story.