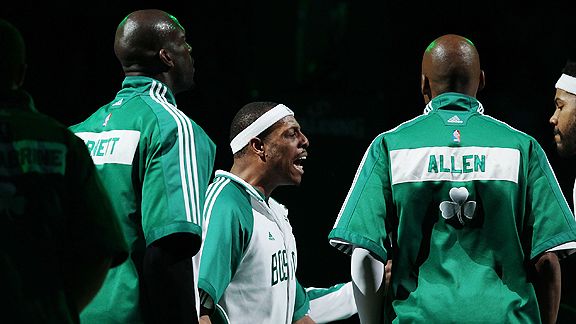 Elsa/Getty Images
Is this the last time we'll see the Big Three together on the Garden floor?BOSTON -- A collection of pregame news and notes before the Boston Celtics host the Cleveland Cavaliers in Game 4 of an Eastern Conference semifinal series at the TD Garden:
The rundown (a quick look at pregame headlines)
* Is this the Big Three's final game together in Boston?
* Ray's relaxed before pivotal Game 4 vs. Cavs
Is this the Big Three's final game together in Boston?
It's a sobering, yet possible reality that, if the Celtics do not win Sunday's Game 4 against Cleveland, this might be the final time we see the Big Three together on the TD Garden floor.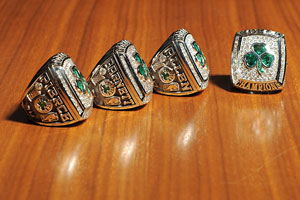 Brian Babineau/NBAE/Getty
Championship rings the Big Three netted in 2008.While sitting in the visitor's locker room in Cleveland before an offday practice last week, Celtics captain Paul Pierce was asked if he thinks about whether this could be a final dance for him, Ray Allen, and Kevin Garnett. He simply shook his head and said, "No," even when pressed on the issue.
Clearly the Celtics have to think like this won't be the last game. But if Cleveland goes up, 3-1, there's a decent chance they could close out at home in Tuesday's Game 5.
If that happens, then the Big Three will likely go out with a whimper rather than a bang at the Garden. And not just because they would have lost 19 games here this season.
Garnett (19), Pierce (11) and Allen (7) combined to score 37 points in Boston's Game 3 loss on Friday. According to Elias Stats Bureau, that is the second lowest combined point total for Boston's Big Three in a postseason game in which they all played. The trio -- which has played 33 playoff games together entering Sunday's game -- hadn't combined for a total that low since registering 32 points on May 6, 2008.
Garnett remains under contract for two more seasons, but Pierce boasts an early termination option this offseason, while Allen will be an unrestricted free agent. There's still a chance the trio could be reunited for at least one more season next year, but at some point the window we heard so much about when the Big Three united will close for good.
Ray's relaxed before pivotal Game 4 vs. Cavs
If this is the Big Three's final game together in Boston, Ray Allen sure looked relaxed before a pivotal Game 4.
After a few minutes of serious hoops talk, Allen talked casually with reporters about Mother's Day and when the subject of gifts came up, the a conversation steer to how sweat sells.
First things first: Allen said his mother, Flo, has been in Boston for the entire postseason (and she was previously in town to run the Boston Marathon). While he didn't get a chance to celebrate with her this morning, he said she'll be in attendance along with much of Allen's family for Sunday's game.
The gift they requested: A win. And Allen's hoping to oblige.
"While we're [playing], might as well kill two birds with one stone," said Allen.
Allen said his key for Mother's Day is to, "Make every day feel like Mother's Day," for his wife and mother. He managed to avoid any special suppers on Saturday night, or brunches on Sunday, because of that.
"[Allen's wife] forbid me from leaving the house [Saturday after practice]," said Allen. "She likes me to be home. I try to get out, do little nice things for her, like even after practice, I call her and ask if she needs anything. And she'll say, 'No, just come home, I haven't seen you all day."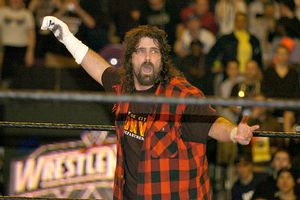 Kevin Mazur/WireImage
Mick Foley and Mr. Socko ... an unwanted gift.On the topic of presents, a reporter suggested Allen could just re-gift some of his game-worn clothing that fans so eager to obtain. While admitting that "sweat sells," Allen said he doesn't quite understand the fascination. Which led him to tell a humorous story about attending a WWE wrestling event with Sam Cassell a few years back.
As Allen detailed, Mick Foley was wrestling and he had a gimmick of wearing a tattered sock puppet called "Mr. Socko" on his hand (and often jamming it down an opponent's throat as a finishing move).
"I'm looking at him like, this man is crazy," recalled Allen. "He's going through his routine and we're sitting right there on the post. At one point, he looks like he's getting ready to take the sock off and he's going to throw it into the aisle. All the kids jumped up and Sam's boy, Little Sam, jumps up and puts his hand there and he throws it right at him. He grabbed it and was like ... [laughter] ... he looked at me and I was like, 'Yeah, you don't really want that do you?' It was dirty. It looked like he wore it for three months. His mom said, 'Give me that sock, I'm washing that.' But [Little Sam] looked at it like, 'I don't even want that.'