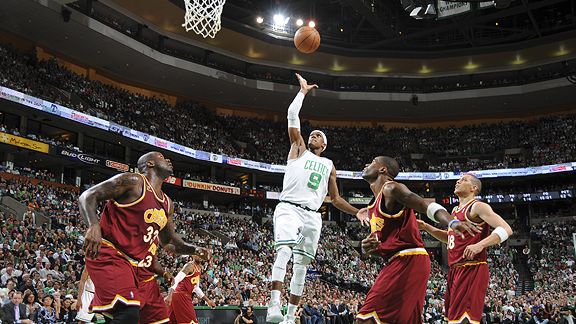 Brian Babineau/NBAE/Getty Images
Celtics guard Rajon Rondo needed little more than three quarters to produce a triple-double.BOSTON -- Instant reaction after the Boston Celtics posted a 97-87 triumph over the Cleveland Cavaliers in Game 4 of an Eastern Conference semifinal series at the TD Garden:
How the game was won: Rajon Rondo made Game 4 his own personal showcase, registering a triple-double with 29 points, 18 rebounds and 13 assists that left the crowd chanting, "MVP! MVP!" while he shot free throws late in the game. LeBron James -- the league's actual MVP -- was limited to 22 points on 7-of-18 shooting with 9 rebounds and 8 assists as Boston ratcheted up its defense after a dismal Game 3 performance.
Turning point I: The Cavaliers rallied to tie the game late in the third quarter, but Tony Allen's layup late ignited what evolved into a 12-0 run. Allen scored half the points on the spurt, which spanned into the fourth quarter, and Glen Davis added two more buckets as Boston opened an 84-72 lead with 8:40 to play.
Turning point II: Cleveland rallied within a bucket on two occasions, but Boston kept the Cavaliers at arm's length. No bucket was bigger than when Paul Pierce -- mired in another miserable, foul-laden performance -- slashed baseline with the shot clock winding down and delivered an emphatic two-handed jam for a 90-85 lead with 2:20 to go. Rondo followed soon after with a huge putback in the lane. Speaking of second-chance points ...
Stat of the game: The Cavaliers did not generate a single second-chance point and hauled in only three offensive rebounds. Boston registered 13 second-chance points behind nine offensive boards.
Unsung hero: Boston's bench provided a spark with starters mired in foul trouble. Allen scored 14 points on 6-of-7 shooting, while Glen Davis chipped in with five points and three rebounds.
What it means: A seesaw series tilts back to even as we shift back to Cleveland for Tuesday's Game 5. The Celtics absolutely needed a win Sunday and got it. While Cleveland still has the homecourt edge, Boston at least guaranteed this series will come back to Boston on Thursday.