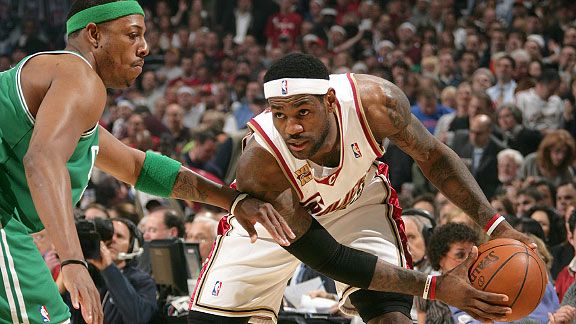 David Liam Kyle/NBAE/Getty Images
Paul Pierce and the Celtics made LeBron James a non-factor in Game 5.CLEVELAND -- Instant reaction after the Boston Celtics posted a 120-88 triumph over the Cleveland Cavaliers in Game 5 of an Eastern Conference semifinal series Tuesday evening at Quicken Loans Arena:
How the game was won: Maybe the Big Three and Rondo can just share that proverbial torch. Boston's starting 5 combined for 90 points, single-handedly outscoring Cleveland on its own, as Ray Allen poured in a team-high 25 points behind six 3-pointers and Paul Pierce shook his offensive slump enough to register a double-double by scoring 21 points on 9-of-21 shooting to go along with 11 rebounds. Rajon Rondo didn't come close to his numbers from the other night, but after a scoreless first half, he finished with 16 points and 7 assists, fueling Boston's second-half runaway. LeBron James also didn't register a field goal in the first half and finished with 15 points on 3-of-14 shooting over 42 minutes.
Turning point I: The Cavaliers led by eight with 9:52 to go in the second quarter, but the Celtics embarked on a 16-0 run -- fueled by six straight points from Kevin Garnett -- to open a 37-29 lead with 4:01 to play in the frame. The Cavaliers ultimately went nearly eight minutes without a field goal as Boston's defense helped Boston take control of the game.
Turning point II: A pair of offensive rebounds led to a pair of 3-pointers for Ray Allen in the opening minute of the third quarter igniting a 12-2 run to start the second half and pushing Boston's lead to 16. It only got worse from there for the Cavaliers, as Boston's lead ballooned above 20 points later in the frame (and stayed there in the fourth frame).
Stat of the game: The Celtics generated 23 second-chance points thanks to nine offensive rebounds and limited the Cavaliers to seven second-chance points on seven offensive rebounds.
Unsung hero: Glen Davis came off the bench to chip in 15 points on 4-of-7 shooting with four rebounds. All but one of those points came in the second half, when he helped clean up near the basket.
What it means: Could this have been James' final game in Cleveland? If the Cavaliers don't win Thursday in Boston, an abrupt end to the 2009-10 season could make James think twice about where he signs in the offseason. Meanwhile, Boston put itself in the driver's seat, taking a 3 games to 2 edge as the series shifts back to Boston for Game 6. This series is far from over, but you can't hep but feel like Boston didn't just win Game 5, it did a number on Cleveland's confidence moving forward.