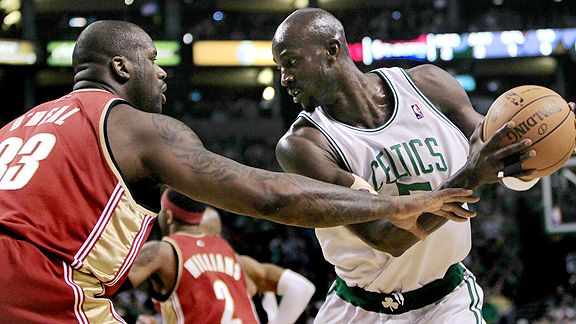 AP Photo/Charles Krupa
Kevin Garnett produced another quality postseason effort for the Celtics.BOSTON -- Instant reaction after the Boston Celtics eliminated the Cleveland Cavaliers with a 94-85 triumph in Game 6 of their Eastern Conference semifinal series Thursday night at TD Garden:
How the game was won: Kevin Garnett poured in a team-high 22 points on 11-of-19 shooting and grabbed 12 rebounds over 36 minutes, while Rajon Rondo added 21 points and 12 assists in 44 minutes as the Celtics eliminated the top-seeded Cavaliers. LeBron James -- in what might be his final game in Cleveland -- finished with a triple-double with 27 points, 19 rebounds and 10 assists, but also had nine costly turnovers.
Turning point: The Cavaliers managed to rally every time Boston looked as if it might pull away, but with 8 1/2 minutes to go in a four-point game, James fumbled the ball away and Rondo produced a fastbreak layup. After Rasheed Wallace blocked Anderson Varejao, Paul Pierce drilled a 3-pointer at the other end for an 83-74 lead with 8:06 to go.
The dagger: Whoddathunk the dagger on the Cavaliers' season -- and possibly James' career in Cleveland -- would come at the hands of Wallace, who splashed a 3-pointer with 6:09 to go, pushing Boston's lead to double digits moments before Garnett's emphatic one-handed jam put the Celtics on top 88-74 with 5:52 to play.
Stat of the game: The Cavaliers committed 24 turnovers leading to 27 points for Boston, including the nine for James alone.
Unsung hero: While Wallace might not have provided his penance for a lackluster regular season, he certainly didn't hurt his cause by scoring 13 points on 4-of-8 shooting over 21 minutes.
What it means: After few gave them a chance of even hanging with the Cavaliers, the Celtics are back in the Eastern Conference finals. Fourth-seeded Boston will travel to second-seeded Orlando to open a best-of-seven series Sunday at Amway Arena. The Magic defeated the Celtics in seven games in a conference semifinal last season before advancing to the NBA Finals.