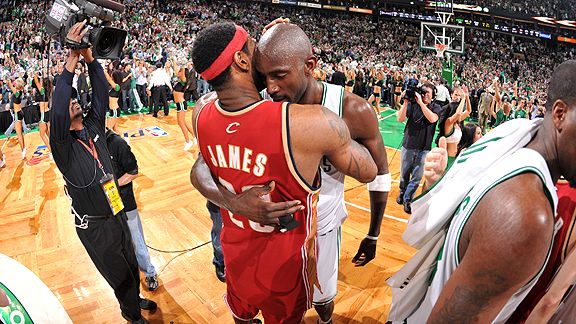 NBAE/Getty Images
LeBron James and Kevin Garnett embrace after Game 6.Just in case you're hankering for one last batch of LeBron James before we move on to the postseason, here's ESPN.com's Chris Sheridan's take on last night's potential last game in a Cavs uniform:
So which LeBron James do you want to believe?

The LeBron who said he hasn't given much thought to what he's going to do with his future?

Or the LeBron who said "my team has a game plan"?

Because James said both of those things after finally making his way to the interview room more than an hour after the Cavaliers' season came to a swift and stunning end with a 94-85 loss to the Boston Celtics in Game 6 of their Eastern Conference semifinal.

Myself, I'll go with the LeBron behind Curtain No. 2, and beyond that I'll only go so far as to say I believe he has played his final game for the Cleveland Cavaliers. It's been seven long years for James in Cleveland, and as Kevin Garnett pointed out, it's hurtful at times when you cannot get your youth back.

And the crossroads James now finds himself at is the one at which he chooses between staying in the state where he was born and raised, the state where he was loved like no other professional athlete Ohio had ever produced, or moving on to the next stage of his life, the stage where he breaks beyond the boundaries that have confined him to a Midwestern comfort zone and goes on to bigger and better things.

Chicago? Miami? New York?

Could be any one of those three, and whoever knows exactly what details Team James' game plan entails isn't yet spilling those beans.

Celtics fans certainly had fun letting James know their prediction, chanting "New York Knicks" whenever he stepped to the foul line on a night when his triple-double of 27 points, 19 rebounds and 10 assists was buttressed by his nine turnovers.

James did not speak to the specifics, whether pro or con, of playing in any of those cities -- or even the possibility of remaining in Cleveland.

What he said he'd do is go into the summer with the proper mindset, something I asked him to define in the final question he took in his postgame news conference.

"It's all about winning for me, and I think the Cavs are committed to doing that," he said. "But at the same time I've given myself options to this point, and like I said before, me and my team, we have a game plan that we're going to execute, and we'll see what we get."

James also was asked what he could say to the people in Cleveland, and it was noteworthy that he used the past tense in saying "We had a great time together."

Great, at least, until they booed him Tuesday night in the disappearing act that'll go down as the LeBacle.
Click HERE to read more in Friday's Daily Dime. Or hop HERE, for much more coverage of James and his impending free agency.