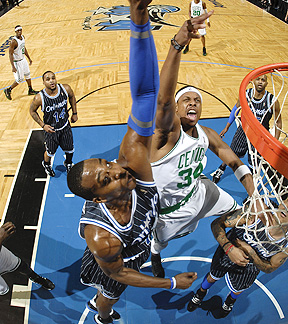 Fernando Medina/NBAE via Getty Images
The Celtics and Magic clash in the Eastern Conference Finals starting Sunday in Orlando.ESPN.com's John Hollinger takes an in-depth look at the incredible play of the Orlando Magic over the past 2 1/2 months.
The Orlando Magic are putting together one of the most dominant late-season runs in history, and perhaps it's time we started paying attention. Monday's 98-84 win over Atlanta in Game 4 didn't just put the finishing touches on a laughably one-sided four-game sweep, or keep the Magic's playoff record a perfect 8-0 against two overmatched teams.

No, this goes much deeper. Orlando is on a torrid hot streak and nobody seems to have noticed.

Want to guess the Magic's record in their 30 games since March 1?

Would you believe 27-3?

Yes, 27-3. That's not a typo. That's their mark in a slate in which 18 of the 30 opponents were playoff teams. And before you dismiss the most recent opposition so easily, remember that the Hawks team they handled so easily won more games than Boston, San Antonio and Portland and as many as Denver and Utah. In fact the Hawks beat all of those teams at least once, as well as the Lakers and Suns, and swept Boston 4-0.

So the Magic have beat a lot of good teams. Actually, that's an understatement. They aren't just beating people -- they're killing them. Twenty of the 27 wins have been by double figures, and many were one-sided beatdowns -- such as the wins by 43 and 30 over Atlanta in Games 1 and 3. Monday's win, by a mere 14, barely moved the needle on their average victory margin.

See if you can wrap your heads around this one: Orlando has outscored opponents by a whopping 421 points over its past 30 games. To put this in perspective, the Lakers, Suns and Celtics -- who could be the other three teams left standing when the conference finals start next week -- didn't outscore the opposition by 421 points over the entirety of the 82-game regular season, much less in the final 30 games of it.

That's an average of 14 points per game, which simply isn't done over long stretches -- nobody else in the NBA had an average margin even half that size during the regular season.

This isn't run-of-the-mill good, people. This is blow-your-doors-off, hide-the-women-and-children level domination. The Magic are so good that Stan Van Gundy is in danger of running out of things to worry about.
Click HERE to read the full story.