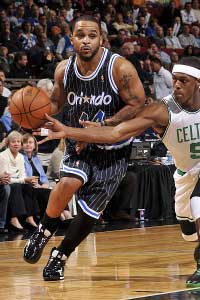 Fernando Medina/NBAE/Getty
Jameer Nelson, whose scoring is on the rise this postseason, is a key in setting up Orlando's prolific 3-point shooters.No superstars, no problems? If only it were that easy.
After being forced to defend the likes of Cleveland's LeBron James and Miami's Dwyane Wade in the early rounds of the NBA playoffs, it would seem the Boston Celtics would relish the opportunity to play a team that didn't boast a scorer among the league's top 25 this season.
Instead, with Boston in Orlando for Game 1 of the Eastern Conference finals n Sunday (ABC, 3:30 p.m.), it must figure out a way to defend a team that may not have an elite scorer, but is chock full of weapons that can light up the scoreboard.
"They're a team built around the inside presence of Dwight Howard, surrounded by guys who can really shoot the ball and score," said Celtics captain Paul Pierce.
"They're a little deeper and they definitely gained confidence," Pierce added, referencing last year's team that advanced to the NBA Finals before losing to the Lakers. "It'll definitely be a real challenge for us, especially the way they're playing."
While Orlando's defense deservedly gets much of the credit for the team's success, the Magic also have thrived with a balanced offense that essentially challenges the opposition to pick its poison.
Howard (18.3 points per game, 26th in the NBA) was the team's only representative among the league's top 40 scorers this season. But in the playoffs, point guard Jameer Nelson leads five Orlando players averaging double figures; one year after Nelson missed the Magic's seven-game triumph over Boston in a conference semifinal, he might be the biggest concern for the Celtics.
"There's no secret what they do," said Celtics coach Doc Rivers. "They use Howard as a great post guy, a guy who can suck in everyone, then Jameer Nelson tries to take you off the dribble, they go draw and kick, and then they look for the 3[-pointers]. That's what they do.
Click HERE to read the full story.