"We've lost to New Jersey, we've lost to [teams with poor records], but if we make a run in the playoffs, will you forget it? That's my question. … If we don't, then it's probably who we were all year -- an inconsistent team -- at least in the second half of the year. We'll find that out."
-- Doc Rivers, April 9, 2010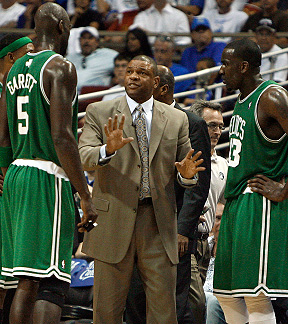 AP Photo/Don Montague
Celtics coach Doc Rivers managed to keep the Celtics focused when they seemed destined for mediocrity.ORLANDO, Fla. -- Consider it forgotten.
When Celtics coach Doc Rivers appeared at the podium for his postgame news conference following an embarrassing loss to the Wizards last month, he immediately cracked a joke. Reporters were almost baffled by his easygoing demeanor; shocked that he wasn't more outraged by an effort that left fans booing the Celtics unmercifully as they trailed lowly Washington by 28 points in the first half of a 106-96 defeat.
But clearly Rivers knew something the rest of us didn't. Even as the Celtics ship dipped near rock bottom at times while playing the type of basketball that resembled an EKG monitor, Boston's skipper stayed the course and told anyone who would listen that he still liked his team.
But teams are like your kids -- you have to like them. That doesn't make them championship contenders.
The Celtics dropped seven of their final 10 games. They missed out on the third seed in the playoffs, which would have afforded them the chance to play a banged-up Milwaukee squad in the first round and avoid LeBron James and the top-seeded Cavaliers in the conference semifinals.
It appeared this team couldn't do anything right, and the inconsistent brand of basketball it played seemed certain to spell a quick demise in the postseason. All of which would have confirmed the notion that the Celtics simply weren't as good as they thought at the start of the season.
Then the playoffs began and the Celtics looked nothing like the team that sleepwalked since Christmas. Here we sit, one game into the Eastern Conference finals, and Boston is three wins away from playing for a shot at Banner 18.
So when, and how, did this team turn the corner?
Click HERE to read the full story.