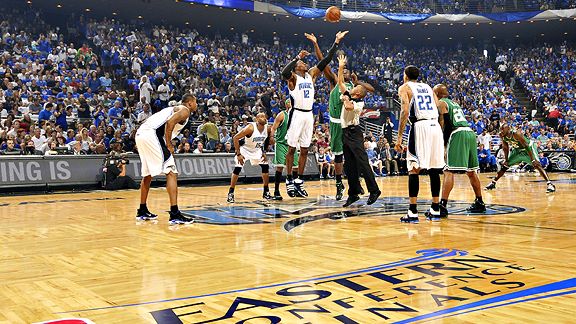 Gary Bassing/Getty Images
Boston expects Orlando to come with a sense of urgency in Game 2.ORLANDO -- Of all the impressive winning streaks the Magic put together this season, here's one of the more noteworthy: Orlando never lost back-to-back home games, something that would seemingly bode well for the team heading into Tuesday's Game 2 of the Eastern Conference Finals.
Heck, the Magic haven't lost back-to-back games of any sort since dropping three straight from Jan. 13-18. The Magic haven't been defeated in back-to-back home games since Games 4 and 5 of the NBA Finals against the the Lakers last year. Take that away, and you'd have to go all the way back to Feb. 11, 2008, for back-to-back home losses against the Lakers and Cavaliers.
Needless to say, the Celtics expect Orlando's best punch in Tuesday night's Game 2 of the Eastern Conference finals.
"I think they'll play harder, they'll play with more energy, and they're going to be better," Celtics coach Doc Rivers said at Tuesday's shootaround at Amway Arena. "Just from the time off, the rust they had, they will shoot the ball better. What we focused on over the last 48 hours is showing our guys all the open shots they did have. They were rushed, but they were open. And we can't allow those. All the dribble penetration, the offensive rebounds -- they did a lot of good things. Some of it was their doing, some of it was our doing. We have to get away from the part we allowed."
As for the Celtics, who have won four straight postseason games, Tuesday's contest is a chance to put a stranglehold on this series as it prepares to shift back to Boston. Rivers is imploring his team to not be complacent having already stolen homecourt advantage.
"It's a great challenge," said Rivers. "I always think it's a challenge of the mind as much as anything else. How much do you want it? You played as a desperate team in Game 1, can you do it again in Game 2 when you have one in your pocket? If you can do that, you give yourself a chance to win."
The Celtics know all about bouncing back from adversity. Most left them for dead after Cleveland invaded the Garden and delivered a Game 3 thumping to open a 2-1 advantage in the conference semifinals. Boston scraped itself off the floor, never panicked, and responded by winning the next three games to close out that series.
"The resolve of our team, it's starting to come through," said Rivers. "When a team hits you -- and I go back to the Cleveland Game 3 when they hit us pretty hard -- our guys showed up the next day, watched film, and you could see that they were ready. That didn't mean we were going to win Game 4, but they were ready to play. They moved on. They have short memories in that way, and that's a good thing."
The Celtics need to have a short memory Tuesday, forgetting what they've accomplished, and play with the desperation that put them in the driver's seat of this series to begin with.
If Boston is able to steal Game 2 as well, it would be a historical moment for the team. The Celtics have never won each of the first two games of a playoff series on the road in their franchise history, a total of 14 playoff series before this year's conference finals.